Imagine an expert manager who can create reports and projects to drive company growth, locating idle time, points of weakness, and optimal routes. The best fleet GPS tracking systems can do all that anymore. With integrated apps that are available on Apple and Android, fleet managers have more data than ever before to ensure driver safety, improve efficiency and delivery performance, reduce downtime, and drive company growth. Here are the best fleet GPS tracking systems to protect your assets and increase business growth.

Featured
Get a near real-time, 360-degree view of your fleet's daily operations, so you can help reduce costs, increase productivity, stay on top of vehicle maintenance, and make the most of every business day.
Quicklook: Best Fleet GPS Tracking Systems
Best Fleet GPS Tracking Systems
If you're ready to invest in the best fleet GPS tracking systems that will improve management, drive revenue and growth, here are the best picks:
Azuga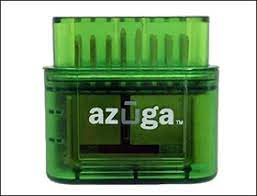 Best For: All fleet sizes
Azuga is a simple, easy-to-use, and feature-rich GPS fleet tracking option with exceptional reports and data to drive your business. You can set driver points, incentives, and rewards for safe driving.
There is also a fuel card integration as well as a fuel saver feature that tells drivers where the best-priced nearby gas station is. Track your fleet with a live map of driver locations, and use their integrated messaging tool for communication between managers and drivers.
Technical Specifications
Dimensions
1.7"x1.8"x1", 31.1 g (1.1 oz)
Resolution
None – phone app
Display Type
None – phone app
Mounting Type
Self-installed into OBD port
Voice command
No
Camera
No
Storage
Uploads coordinates
Lane Assist
No
Speed Limit Indicator
No
Traffic Services
No
Special Features:
Installation in 10 seconds
Driver diagnostics, including calls received and made, and texts sent
Customizable fleet reports
Benefits:
Schedule maintenance
Motivate drivers for safety with games
Create custom reports
State mileage and idle time
Disadvantages:
Some users report issues with the wrong location of buildings.
Some users report billing issues.
Pricing: $99.99 per device
$19.99 per month, per device for the subscription
KeepTruckin Asset Manager GPS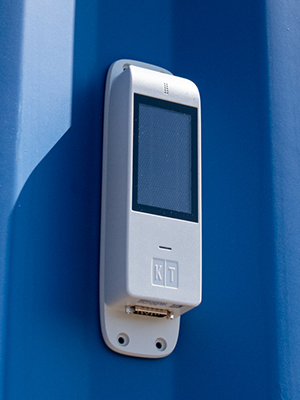 Best For: Large fleets and experienced users.
The KeepTruckin Asset Manager GPS combines the features of a basic GPS with reports for command-center level visibility for fleets. Choose from customized reports and regular updates. The solar-powered battery option takes coordinates every 1 minute and sends updates every 5 minutes, while the cable option updates coordinates every 30 seconds. Back by the KeepTruckin name and network of tools, GPS based fleet management system is a reliable option, especially for large fleets.
Technical Specifications
Dimensions
6 inches x 2 inches
Resolution
None
Display Type
None – phone connectivity
Mounting Type
Mount plate
Voice command
No
Camera
No
Storage
Automatically uploads data and saves in an online app.
Lane Assist
No
Speed Limit Indicator
No
Traffic Services
No
Special Features:
Solar-powered battery for reliable connection without power.
Fleet updates without driver connection.
Benefits:
Reliable fleet tracking
Customized reports
Management oversight and efficiency
Increased safety for drivers
Disadvantages:
Some complaints about poor customer service.
Some issues with uploading correct data points.
Pricing: $300
$15 monthly subscription fee, or $180 for an annual subscription.
ClearPath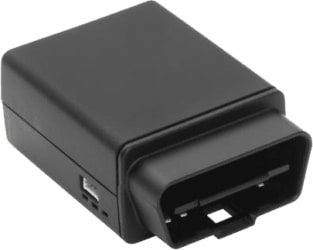 Best For: Small fleets, value pricing
Clearpath GPS is an easy to use, transparently priced GPS fleet tracking solution. While they also cater to agricultural and service vehicles, ClearPath offers all the features you would expect in a high-quality GPS for fleet tracking. Geofencing and traffic information, maintenance, idle times, driver reports, real-time alerts and detailed reports are a few of the useful tools available with the ClearPath GPS. The optional dashcam and ELD make it possible to use this as a touchscreen GPS.
Technical Specifications
Dimensions
1.8″x 1.5″ x 1″
Resolution
None – optional camera with display
Display Type
None – optional camera with display
Mounting Type
Plugged into the OBD port
Voice command
No
Camera
No
Storage
Automatically uploads data and saves in an online app.
Lane Assist
No
Speed Limit Indicator
No
Traffic Services
Yes
Special Features:
On-going training and guidance
Reports library
Live fleet maps
Benefits:
Low cost
Plug and play
Optional integrated dash cam and ELD
Excellent customer service
Disadvantages:
You cannot create customized solutions, as there are only two service plans.
Some reports unavailable in the basic plan.
Pricing:
Standard Plan: $20 per vehicle, per month for the standard plan
Pro Plan: $25 per vehicle, per month
Non-Powered Assets: up to $20 per vehicle, per month
Samsara

Best For: Small fleets and customization
Created by a group of MIT researchers, the Samsara GPS fleet tracker offers exceptional features and customizations. Choose from helicopter fleet view, real-time diagnostics and reports, alerts, maintenance plans, and optional hardware add-ons at reasonable prices.
Access live video footage from AI dash cams or have drivers access in-cab feedback and video coaching to improve driver safety. The Samsara GPS also integrates with third-party applications, giving fleets more ways to use these crucial reports and fleet insights.
Technical Specifications
Dimensions
4.6 x 2.7 x 1.0 inches
Resolution
None – integrates with phone apps
Display Type
None
Mounting Type
Flexible mounting options
Voice command
No
Camera
No
Storage
Built-in flash memory
Lane Assist
No
Speed Limit Indicator
No
Traffic Services
Yes
Special Features:
Customized features and pricing
Hardware is licensed – no need to buy
AI safety reporting
Benefits:
Driver workflow reports
Increased efficiency and ROI
Increase in dispatch productivity
Reliable
Disadvantages:
Some customers report data issues.
Some customers complain of poor customer service communication.
Pricing: Get a custom quote
Verizon Connect
Best For: MId-size and large fleets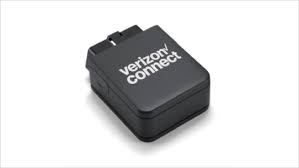 Verizon Connect offers industry-specific solutions for midsize to large fleets. They also offer specialized features in distribution, oil, gas, mining, construction and heavy equipment, utilities, transportation, and logistics. Manage multiple languages and time zones. Use flexible labeling for reports, as well as two years of historical data, and create insights and forecasts for better fleet management.
Technical Specifications
Dimensions
30 x 51 x 3.15mm
Resolution
None. Connects to phone or optional ELD or dash cam.
Display Type
None. Connects to phone or optional ELD or dash cam.
Mounting Type
OBD-II port mount
Voice command
No
Camera
No – optional additional dash cams
Storage
Automatically uploads to a server via cellular connection.
Lane Assist
No
Speed Limit Indicator
No
Traffic Services
Yes
Special Features:
Excellent customization
Tracking updates every 30 seconds
Benefits:
Customized vehicle reports and maintenance management.
Employee cost savings
Improved safety records
Disadvantages:
More complex learning curve.
36 month contact.
Pricing: Average monthly rate of $40 per vehicle per month with a 36-month contract. Contact Verizon for personalized pricing.
How Does Fleet GPS Tracking Work?
GPS fleet tracking works by automatically sending tracking information back to a central database. In some cases, the data gathered is also stored on the device before being transmitted by cellular connection.
The tracking information can be used for all aspects of fleet management. GPS tracking allows for accurate delivery updates and estimates. It also allows vehicles to be quickly located in a yard, reducing transfer times. Installing GPS tracking also increases security for vehicles in the case of accidents or theft.
Benefits of Using a Fleet GPS Tracking Software
The benefits of using fleet GPS tracking software range from less unused time to greater financial savings.
Improve Safety
Fleet tracking GPS systems include maintenance programs to ensure the safety of your fleet. In addition, the GPS fleet tracking can alert managers and drivers to unsafe driving patterns such as regular speeding. The improved safety is also important for drivers: it demonstrates that your fleet prioritizes their safety and well-being on the road.
Improve Efficiency
One of the greatest losses of time happens in the yard, while vehicles are waiting to load or unload, to locate the vehicles or docks in the yard. The GPS fleet tracking system eliminates this lag time, reducing driver's working hours and truck downtime. The reports generated by the GPS allow management to quickly locate inefficiencies and mitigate problems, creating long-term savings.
Reduce Fuel Costs
One of the largest expenses for fleets is fuel costs. Unauthorized vehicle use can substantially increase fuel expenses. GPS fleet tracking software cuts down on authorized use or allows managers to track vehicles. It can also reduce fuel costs by mapping the most efficient routes for drivers.
Theft or Accident Recovery
In case of accident or theft, the GPS fleet tracking system allows vehicle recovery in case of accident or theft. This provides a layer of security to the most valuable asset in a fleet – the trucks.
Better Data
Better reports and data from GPS fleet tracking software can help managers make better decisions and recognise new opportunities in routes, loads, or distribution.
Choosing the Right GPS Fleet Tracking System
When choosing the right GPS tracking system for your fleet, look for a system that is reliable, with excellent reviews, and the reports and features required for your fleet. Here are our top tips:
Mounting System
Selecting a mounting system that works with the vehicles in your fleet will be a key factor. Some GPS tracking systems are mounted outside the vehicle while others are connected to the OBD port.
Fleet Size
Select a GPS fleet tracking system that meets the requirement of the fleet size. Large fleets require more management oversight, automation, and reports, while smaller fleets may only require a simple GPS tracking device and basic maintenance and efficiency reports.
Ease of Use
Select a GPS fleet tracking system that is easy to use and install. If there are issues with use or downtime, the company will lose benefit from the GPS tracking.
Reports
Select a GPS tracking system that creates customized reports for your specific company needs, as well as projects. Do you want reports on idle time and maintenance? Do you need geofencing or route suggestions? Consider the most important reports for your company when choosing a GPS tracking system.
GPS Fleet Management to Increase Revenue and Growth
The GPS fleet management tools here are inexpensive tools to reduce costs of idle time, reduce employee hours, and improve fleet efficiency. The maintenance reports and features also ensure increased fleet safety and driver confidence. GPS fleet management tools give you the power of an exceptional manager in your pocket.
The ROI on a GPS tracking device is many-fold, with many fleet managers reporting substantial savings and improved company efficiency. With added driver ratings, communication, and reports, the range of GPS fleet monitoring devices is a powerful tool for fleets of all sizes to increase revenue and productivity while reducing expenses.
FAQ
How Much Does a GPS Tracking System Cost?
How much a GPS tracking system costs will vary by make, model, and subscription. For high-quality, reliable GPS tracking systems, expect to pay $250-$350 for the GPS device plus a monthly or annual subscription fee.
Is Fleet Tracking Legal?
Yes. It is legal to track vehicles owned by you or to track company vehicles being used for business purposes. There are no federal laws that regulate vehicle tracking.
What is the Difference Between Fleet Management and Fleet Tracking?
Fleet tracking is a part of fleet management. Fleet management encompasses fleet tracking, scheduling, routes, planning, and all aspects of organizing a fleet.