Truck driving is a lucrative industry. If you want to get the most from this business, you may want to consider financing a truck. It is important first that we cover some of the details you must consider during truck financing and then show you the best commercial truck financing options for you to consider.
Semi-truck financing works a bit differently than other forms of financing. Your rates and options will depend on your credit score, the number of years you've been in the business, the condition of the truck, and various other factors. 
How Does Truck Financing Work?
Commercial truck financing is a form of equipment financing. Financing is designed to make equipment more affordable by spreading out the payments over time. Commercial truck financing can be used to buy a new or used truck, as well as to upgrade or repair an existing truck.
Typically, the truck itself will serve as collateral for the truck financing process. A lender will hold the title to the vehicle until your debt is paid in full. If you are unable to pay this debt, the lender can legally seize your truck to cover their losses.
Be advised that some lenders will also require a down payment in order to secure the loan, usually in the amount of anywhere between 5% to 25% of the total loan value.
Semi-Truck Financing Factors to Consider
How hard is it to get financed for a semi-truck? You should consider the following factors when you're evaluating your truck financing options.
Buying vs Leasing
You may want to consider leasing a truck. Leasing a vehicle basically means that you're renting the vehicle for a predetermined period of time, often one to three years.
Leasing a truck can give drivers more flexibility since they're not committed for a long period of time. But the flip side is that any leasing payments you make won't contribute to your ability to own the vehicle. Leasing a truck can come with usage restrictions, as well, since the vehicle is not legally yours.
For these reasons, most drivers prefer to pursue truck financing in lieu of leasing.
Current Credit Score
Your current credit score could influence the interest rate you pay when you're financing your truck. Negative marks on your credit report (tax liens, delinquencies, etc.) can likewise impact your interest rate.
Truck Insurance
Many lenders prefer that you provide proof of insurance before you take your truck off the lot. That way, their collateral isn't damaged if anything should happen to the vehicle.
Truck Condition
Most lenders will have specific requirements about the type of vehicle they're willing to help you purchase. They may want specific information such as the type of vehicle, the make and model, the current mileage, and its overall condition.
The Best Semi-Truck Financing Companies
Review your options, here is our list of the best available financing companies for commercial trucking vehicles.
1. Triumph Business Capital

Triumph Business Capital a division of TBK Bank, is a full solution for financing needs within the industry. Other lenders may have a component of lending for transportation businesses, but this is Triumph's area of expertise.
Best For:  Variety of lending solutions, including asset-based & ledgered lines of credit.
Benefits:
Asset based lending
Same day funding
No hidden fees
Disadvantages:
Hard credit pull on your application
Fees can largely vary depending on client
Lending:
Minimum: N/a
Maximum: Up to $20M
2. Porter Freight Funding

Porter Freight Funding helps businesses to manage their cash flow by providing truck financing options. This ensures that truck drivers can receive instant payment, while businesses are not consumed with billing and collections.
Best For: Invoice Financing and Quick Pay
Benefits:
Businesses can use capital for expenses like payroll.
Porter Capital purchases invoices, shielding businesses from risk
Asset based lending
Disadvantages:
It's not ideal for individual drivers
Lending:  Porter Freight Funding's lending criteria are subject to a case-by-case basis, though they advertise a discount rate of 1% to 5%.
3. Truck Lenders, USA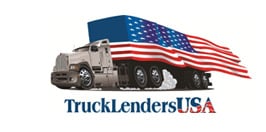 Truck Lenders USA is an industry giant, boasting decades of commercial truck financing experience. They are a direct lender, with custom options for both leasing and financing across 48 states.
Best For: Those with 2+ years of industry experience and a credit score of 675 or higher.
Benefits:
Quotes available on the website
Custom financing options
History of positive reviews
Disadvantages:
Need a credit score of 675 or higher
Vehicles must be 7 years or newer
Must be in business longer than 2 years
Lending:
Minimum: $15,000
Maximum: N/a
4. U.S. Bank

The U.S. Bank provides big rig lending options, and their contracts allow you to finance multiple pieces of equipment on the same contract. U.S. Bank offers loans with no down payment and flexible repayment plans. The pre-approval process is available online.
Applicants can receive up to 125% financing, which means you can finance the cost of your truck, as well as any other business expenses.
Best For: New businesses that lack a lot of working capital.
Benefits:
Up to 125% financing
Flexible repayment terms
Online approval
Disadvantages:
No upfront rates
Higher minimum amount
Loans typically capped at $500,000
Lending:
Minimum: $150,000
Maximum: $500,000
5. Commercial Fleet Financing

Commercial Fleet Financing was founded in 1995 and specializes in truck financing options, though they also provide financing for construction equipment.
Loans are handled through trained loan specialists, and the process offers fast approvals and funding times. There are no hidden fees and the company offers flexible repayment options.
Best For: Those with 3+ years of trucking experience and a credit score of 640 or higher.
Benefits:
Competitive rates
Loans handled by trained specialists
Approval and funding in as little as 24 hours
Disadvantages:
Requires a credit score of 640 or higher
Requires 3+ years of trucking experience
Lending: Rates start at 6%. Commercial Fleet typically offers terms ranging from 26-60 months.
6. Wells Fargo

Wells Fargo has a separate division that handles commercial truck financing and leasing options. While their banking customers may be used to applying online, commercial truck financing applicants will have to speak to a representative by phone. Interest rates are competitive, and Wells Fargo offers flexible seasonal repayment options.
Best For: Anyone, though especially for those who prefer a seasonal repayment plan.
Benefits:
Strong industry reputation
Flexible seasonal repayment options
Many options for financing and leasing
Disadvantages:
No online application
Rates and qualifications offered through representatives
Lending: Rates and qualifications are only offered by calling a representative.
Stay Connected with FreightWaves
The best semi-truck financing option for you will depend on your credit score, work history, and overall goals. At FreightWaves, we serve the global freight industry by providing expert-level content and up-to-the-minute news and insights. Follow us on social media and subscribe to our e-newsletter to stay on top of the latest content impacting the freight industry.