Construction and heavy equipment are impressive machines that are capable of so much. They help streamline an ever growing industry.
Working with the best construction equipment suppliers to keep your operation running smoothly will help you stay on the site working without issue day after day. With a long list of suppliers out there, it can be hard to know which ones are legitimate and trustworthy.
Choose a construction equipment supplier you can trust and they'll be there for you long after you need them.
Featured
Take Home More & Be Home More with Roehl Transport, one of North America's safest and most successful trucking companies. Match with one of Roehl's local, regional, dedicated, and OTR truck driving jobs today! Minimum 3 years experience required.
Quicklook: Best Construction Equipment Suppliers
Best For Equipment Versatility: Caterpillar 
Best For Innovative Equipment: John Deere 
Best For Performance: Volvo 
Best For Vehicle Management: Hitachi 
5 Best Construction Equipment Supplier Options
Make a wise investment and use the best construction equipment suppliers for all your machinery needs. You'll appreciate the stress and money you save down the road working with the finest suppliers out there.
Caterpillar
When it comes to heavy equipment, Caterpillar remains the leading supplier in the construction industry. They offer variety for contractors with more than 300 types of machines and they're proud to offer trusted financial services to help cover these costly machines. CAT® makes equipment that's built to last, but rough jobs can break down even the toughest of equipment. All their equipment can be and was intended to be rebuilt, this means replacing a machine won't be a concern for you. Caterpillar always delivers high-quality equipment. 
Best For: Equipment Versatility
Location: Headquartered in Deerfield, Illinois, Caterpillar has more than 500 locations all over the Americas, Asia Pacific, Europe, Africa, and the Middle East. With 160 dealers, they serve 193 countries.
Types of Equipment: Caterpillar offers a wide range of machines for their heavy equipment operations. They offer versatility thanks to the more than 300 machines that are available through Caterpillar.
Dozers
Excavators
Backhoe loaders
Wheel loaders
Hydraulic mining shovels
Compactors
Machine handlers
And more
Services Provided:
CAT® customer value agreements
CAT Financial
Safety services
Job site solutions
Equipment training solutions
Maintenance
Equipment sales
Equipment rentals
Repairs
Replacements
Fleet monitoring
Equipment management services
Warranty or Insurance Coverage: CAT offers two types of insurance protection plans, they have both equipment and business options available. They also offer Equipment Protection Plans (EPP) for extended protection for machines and Extended Service Coverage (ESC) for the extended protection of gensets and engines.
Features:
Innovative technology

Cat Command
Cat Detect
Cat Payload

Steady market value with proper maintenance
Huge selection of machine types
Personalized service from local CAT dealers
Headquarters and corporate office located in Deerfield, IL
Experienced in the industry
Always brings quality products
John Deere
The second leading construction equipment supplier is John Deere, and for good reason. Another US based equipment supplier, they are based in Illinois and continue on the quality they've delivered since 1837. 
Talk about having time to perfect what was already outstanding. John Deere brings dependable construction equipment to those who need it, no matter where they are.
Best For: Innovative Equipment
Location: John Deere is headquartered in Moline, IL. They have locations in more than 30 countries spread throughout the Americas, Africa, Europe, Asia, and Australia. With such a widespread list of locations, they are able to operate globally.
Types of Equipment:
John Deere's list of construction equipment is vast. There is an extensive list of machinery available, any of which may fall under another industry as well, including agriculture and forestry to name a couple of examples.
Articulated dump trucks
Backhoes
Compact track loaders
Crawler loaders
Dozers
Excavators
Gator™ utility vehicles
Motor graders
Scraper systems
Skid steers
Tractor loaders
Wheel loaders
Services Provided:
The own-it offer
John Deere financial services
StellarSupport™
John Deere Connected Support™
John Deere Protect™ plans
New and used equipment sales
Equipment rentals
Equipment maintenance
Repairs
Replacements
Build your own equipment
Warranty or Insurance Coverage: Coverage available when financing through John Deere Financial with UltraGard Physical Damage Insurance.
Features:
Extensive list of attachments
Constant innovation with their product lines
Known for their exemplary customer service
Extended warranty and protection plans
Equipment safety is a priority
Optimal equipment for decreased downtime on the job
Volvo
Volvo delivers heavy equipment that was designed to perform at its best for the long haul. They continue to make advancements with not only their equipment line, but engine lubricants and technology are highly innovative as well. 
Their equipment runs efficiently and smoothly throughout its life helping to keep your equipment costs down over time. When you invest in Volvo's construction equipment, you're purchasing a machine you'll be using for decades to come.
Best For: Performance
Location: Volvo's headquarters are in Gothenburg, Sweden. They have more than 15 locations in Sweden, France, Germany, the United Kingdom, Brazil, the United States, India, Korea, and China, thereby allowing them to deliver worldwide and offer their services across more than 140 countries.
Types of Equipment: Volvo offers the high quality performance they're known for with their construction equipment products. Their construction equipment line includes the following types of equipment:
Demolition equipment
Compactors
Pipelayers
Rigid haulers
Articulated haulers
Excavators
Electric machines
Wheel loaders
Services Provided:
Uptime services
Safety services
Fuel efficiency services
Financial services
Productivity services
New life services
Warranty or Insurance Coverage: Volvo offers a 24-month limited warranty coverage for their construction equipment.
Features:
ActiveCare direct
Lifetime frame and structure warranty
Parts guaranteed within 24 hours or shipping is on Volvo
Operator training and Volvo site simulation
CareTrack production
Load, dig, haul, compact assist
Hitachi
Hitachi is a trusted construction equipment supplier worldwide. Although they may have more limited offerings in certain locations, they are constantly expanding in all areas. With features like global e-service, vehicle management has never been as easy or efficient than with Hitachi. 
Best For: Vehicle Management
Location: Hitachi is headquartered in Tokyo, Japan. They have dealers in the Americas, Asia, Europe, Africa, the Middle East, and Oceania.
Types of Equipment:
Mini excavators
Mini wheel loaders
Hydraulic excavators
Hydraulic wheel loaders
Road construction machinery
Large hydraulic excavators
Ultra-large hydraulic excavators
Rigid dump trucks
Double-arm working machine
Services Provided:
Monthly operational reports and much more with ConSite®
New and used equipment
Equipment rentals
Equipment maintenance
Repairs
Replacements
Parts remanufacturing
Warranty or Insurance Coverage: All Hitachi heavy equipment comes with their comprehensive manufacturer's warranty. They also offer an extended warranty option called Hitachi Extended Life Program, or HELP. 
Features:
Autonomous Haulage System (AHS)
ICT construction solution
Global e-service support
Fleet management system
ConSite®
Telematics API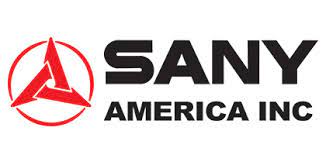 Sany
Sany offers a great list of construction equipment, but they are best known for their excavators. With an extensive list of excavators, you should be able to find the machine that you need. Sany offers a hard-to-beat warranty as well so you'll know your new equipment is protected. 
Best For: Excavators
Location: Headquartered in Hunan, China, they operate in Asia, Europe, and the Americas, serving more than 150 countries.
Types of Equipment:
Excavators

Mini
Small
Medium
Large
Long reach

Wheel loader
Concrete machinery
Varying cranes
Additional trucks and machinery available
Services Provided:
Equipment management
Process management
Service requests and evaluations
Specialized maintenance
Service and repair
Warranty or Insurance Coverage: Sany offers impressive warranty options depending on the equipment. It may range from 3,000 hours, or one year, to 5,000 hours, which is five years.
Features:
Service cloud
Mini excavators available
Industry leading warranties
Sustainable performance from all machines
Autonomous operations available
What Is a Construction Equipment Supplier?
A construction equipment supplier is a company that manufactures construction equipment. Heavy construction equipment is a necessity across the globe and the best suppliers are based in various locations throughout the world.
Tips for Finding the Best Construction Equipment Supplier
Construction and other heavy equipment require a significant investment. Do your due diligence and make sure your investment is worth it by choosing a trusted construction equipment supplier.
Research the Company & Equipment
Doing research before any big purchase is usually a good recommendation and it's of course no different with construction equipment. You'll want to research both the type of equipment you need as well as the companies that make it.
Many companies offer various options, even for the same machine, giving you quite the selection. With a good amount of competition between construction equipment suppliers, knowing what each company offers is crucial to a great investment.
First-class suppliers offer high-quality products that come backed with warranties and additional policies.
Work With Branded Suppliers
Leading construction equipment suppliers generally offer advanced equipment with professional service. These companies are considered branded suppliers and have worked to earn a good reputation in the construction and heavy equipment industries.
Working with trusted suppliers will help you remain confident in the equipment you're investing in and build a relationship with the supplier you're working with. With continued innovation, these leading suppliers help projects run efficiently with machines that can get the job they need done right.
Customer Service
Many of the best construction equipment suppliers know that true customer service means business hours don't exist. They are available for any of your questions any time of the day.
Some heavy equipment purchases can take months to finalize and you're sure to have questions in that time. You shouldn't have to wonder when you'll get a call back or what's going on with your equipment. Top-notch customer service is always available with the right supplier, and they'll help you be certain you're only investing in equipment you need.
Ask About Warranties
Not all warranties are the same and the details absolutely matter. Just because a supplier offers a warranty with their equipment doesn't always mean they're the best choice.
Many suppliers will cover the bare minimum and if you don't read the fine print, you may not know until it's too late. Extended guarantees and warranties are great indicators that you're working with a leading supplier who knows they deliver a trusted machine.
If you're dealing with a broken piece of equipment just months after you purchased it, you're going to want to know every bit of your warranty coverage. Why wait until then? Ask each supplier about their warranties and guarantees before you commit.
Financing Options
Construction equipment is expensive. It's a considerable investment that not all individuals or companies can pay out-of-pocket or upfront. Fortunately, many suppliers know this, so they offer financing options.
Whether it's third-party loans or in-house financing, the best construction equipment suppliers will offer financing solutions so that you can get the equipment you need for your business. At face value, in-house financing seems to offer more flexibility for buyers.
However, both options allow you to get the equipment you need while letting you pay for it over time. When considering your financing options, make sure you look at the fine print and understand if there are any interest rates before you agree to the terms of the financing option.
After-Sales Service
After-sales service can be highly beneficial for those needing construction equipment. Construction and heavy equipment can come loaded with technology which means various features and things to learn.
The best suppliers don't expect you to learn it all before you leave and they'll be available for all your questions even after you're breaking in your equipment on the job. Some suppliers may offer training for those that will be operating the equipment ensuring they're comfortable on the job.
Choosing a supplier that keeps you a priority after the purchase is incredibly valuable. If you need to transport your heavy equipment after purchase, don't fret, you still have heavy haul options.
Compare Prices
As we said earlier, construction and heavy equipment are expensive. Whether or not you require financing for the equipment, you will be paying a hefty price tag for a high quality piece of machinery.
Before you find a supplier with the same machine for a fraction of the cost, be sure to double check the features that said machine offers. There are many different versions of the same machines, but not every version will work for everyone. Ultimately, you want to make sure you're buying a machine that can do what you need it to do.
When you've decided that you found the right equipment for you, compare the cost of said machine by checking the price across various suppliers. Are there any additional features that come with the machine? Is it used or brand new? What are the warranty options?
These are all very important questions. To ensure that you're protecting yourself and your investment, only trust an experienced construction equipment supplier!
Keep Operations Running With the Best Equipment
Keeping your operations running smoothly requires purchasing equipment and machinery that you can rely on consistently. If you are constantly dealing with faulty equipment, you could end up struggling to meet deadlines and keep your clients satisfied.
With the best construction equipment supplier backing you and your equipment, you'll never be left wondering how your day will go. When you know what to look for in a supplier, you will be more confident in your purchases because you will know you're making an investment you'll always feel good about.
FAQ
What is a Construction Equipment Supplier?
A construction equipment supplier makes heavy equipment that is used for construction purposes in addition to other industries.
Who Sells the Most Construction Equipment?
In 2020, Caterpillar was the leading seller of construction equipment in the United States. Japan-based company Hitachi takes the lead internationally.
How Profitable Is a Equipment Supplier Business?
Working as a dealer for construction equipment can be profitable. However, you must consider the area, the demand, your niche, and various other factors before you begin to establish your business.
Sign up for a FreightWaves e-newsletter to stay informed of all news and trends impacting supply chain careers and operations.