When you're looking for products to elevate your fleet, it's important to not overcomplicate the process. Utilizing products that serve more than one purpose can be beneficial to you – and help save money. That's why selecting a GPD dash cam combo could be an ideal choice. The GPS provides real-time guidance for your fleet and the dash cam can protect you with video evidence in case of an incident. We'll review the best semi truck dash cams on the market to help you see what might be ideal for your company.

Featured
Get a near real-time, 360-degree view of your fleet's daily operations, so you can help reduce costs, increase productivity, stay on top of vehicle maintenance, and make the most of every business day.
Quicklook: Best GPS Dash Cam Combo
5 Best GPS Dash Cam Combo
Below we'll explore the best dash cams that can help protect your fleet. See which one might work best for your individual needs.
COOAU Dash Cam D30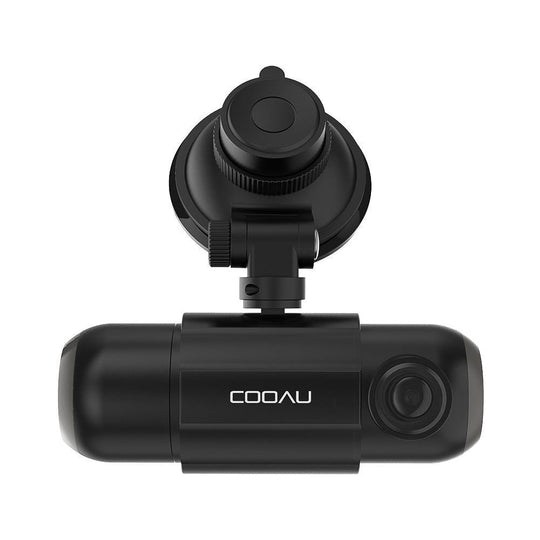 The COOAU Dash Cam D30 provides both front and interior video of the truck simultaneously. With a focus on resisting intense weather swings, you can rest assured it will continue to perform no matter where you are in the country. The wide 170 degree lens captures a view of up to 6 lanes in high definition.
Best For: Cabin and front view
Special Features:
Superapacitor
G-sensor
Loop recording
Infrared night vision
Benefits:
High resolution video
WiFi Connection
Stores up to 128G
Free app
Disadvantages:
Suction cup doesn't adhere at times
App access only while inside vehicle
Customer service is not as attentive
Pricing: $169.99
Technical Specifications
Dimensions
6.57 x 5.39 x 3.03 inches
Resolution
1080P
Display Type
1.5 inch TFT Screen
Mounting Type
Suction Cup
Voice command
Built in Microphone and Speaker
Camera
Yes
Field of View
170 degrees
Storage
128G
Lane Assist
No
Speed Limit Indicator
No
Traffic Services
No
Battery
Super Capacitor
Garmin DezlCam LMTHD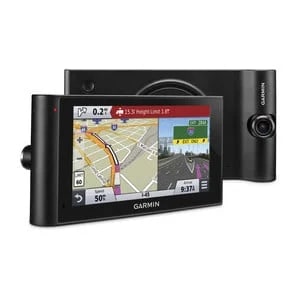 With Garmin's latest GPS system, the DezlCam LMTHD, you can trust the Garmin brand while having a product that is more than just a GPS system that the company is known for. This product has some noticeable benefits, like a touch screen and voice controlled nav system.
Best For: Trusted Brand Name
Special Features:
Smartphone link app that allows videos to be uploaded and shared
Real-tme weather and traffic updates
Bluetooth connection
Truck routing
Benefits:
The truck routing feature allows you to optimize your route based on your vehicle and the storage you have inside, accounting for bridge heights, steep grades, and sharp curves
Created for truckers and the transportation industry
Hands free calling
Device detachable from mount
Disadvantages:
Higher price tag than other products
Not high definition
Less storage than other options
Pricing: $499.99
Technical Specifications
Dimensions
7.2" W x 3.7" H x 0.6" D (1.3" D with camera)
Resolution
800 x 480 pixels
Display Type
7" IPS, color TFT Touch Screen
Mounting Type
Magnetic mount
Voice command
Yes
Camera
Yes
Field of View
[what is the FoV? I.e.: 130 deg, etc]
Storage
Up to 64GB
Lane Assist
No
Speed Limit Indicator
No
Traffic Services
Yes
Battery
Battery, lithium-ion
Rexing V1P Max 4K Dual Channel Dashboard Camera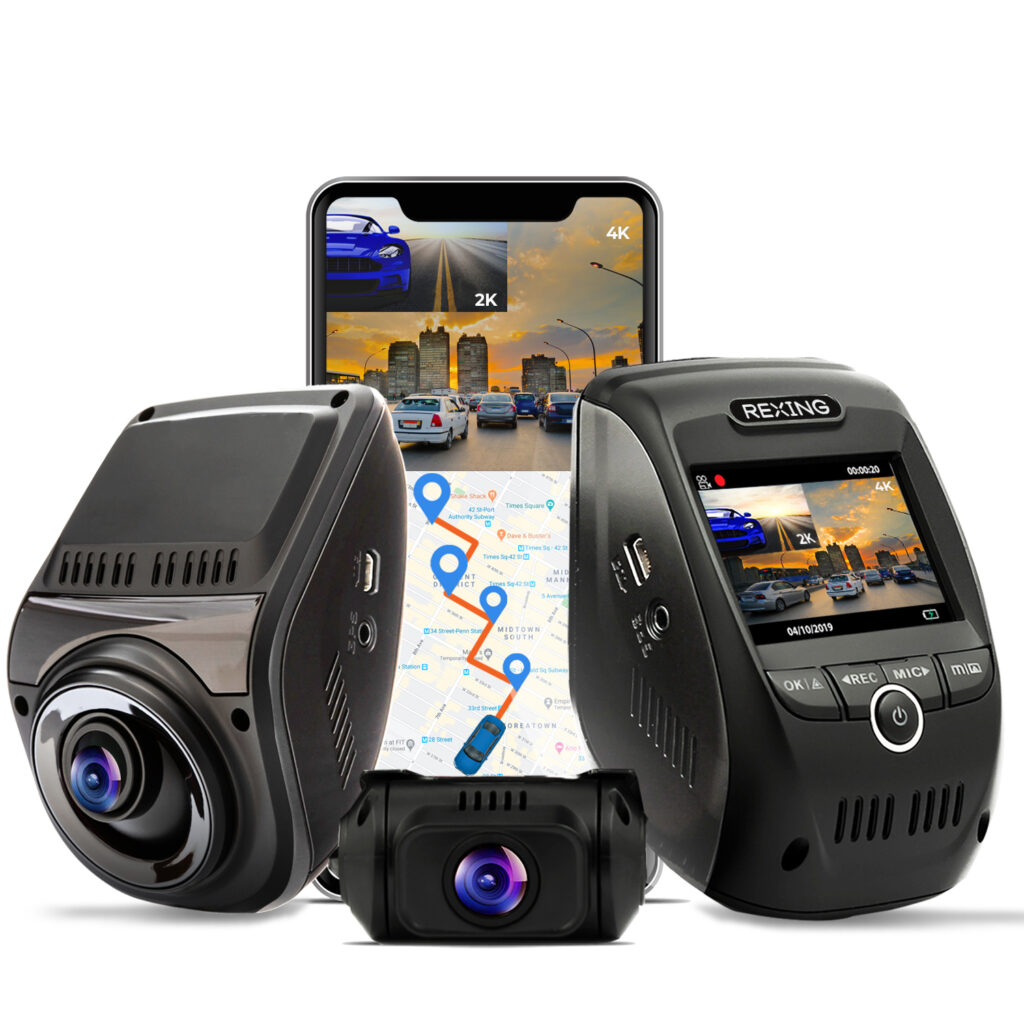 If you're looking for a dash cam with premium features, look no further. The Rexing V1P Max 4K Dual Channel dash cam has both high def front and rear cameras, wifi, collision detection, and more. With a 6-glass lens, it creates a high definition picture with superior quality to help capture the surroundings in any light.
Best For: Night vision
Special Features:
Super night vision
Collision detection
Supercapacitor
6-glass lens camera
Benefits:
Wide angle lens
Micro SD card supports up to 256GB storage
Video playback on phone or PC
Can withstand temperatures up to 158 F
Disadvantages:
Screen can be hard to view when installed properly on the window
License plates hard to see at night
Videos are not automatically downloaded
Pricing: $159.99
Technical Specifications
Dimensions
4.5 x 2.5 x 2 inches
Resolution
Front: REAL 4K 3840 x 2160 videoRear: 2K (2560p x 1440p)
Display Type
2.4 inch 4:3 TFT LCD
Mounting Type
3M adhesive mount
Voice command
Yes
Camera
Yes
Field of View
170 degrees
Storage
Up to 256GB
Lane Assist
No
Speed Limit Indicator
No
Traffic Services
No
Battery
Supercapacitor
THINKWARE U1000
The THINKWARE U1000 is one of the pricier GPS dash cam combos on the list, but it's packed full of features that the other cameras just don't compete with. It has real-time GPS tracking, which is ideal for fleet managers. But the benefits don't sotp there. It boasts a driver assistance warning system that helps keep drivers safe on the road. With speed warnings, road safety warnings, lane departure warnings, and forward-collision warnings, you can not only have the best of a GPS dash cam combo, but a product that helps keep you safe on the road.
Best For: Safety
Special Features:
Road safety warning system
Safety camera alerts
Real-time GPS tracking
Driving impact push notifications
Benefits:
UHD front camera
Real-time vehicle tracking
Driving and parking impact notifications
Small discreet dash cam
Geo-fencing and alerts
Super night view
Energy save mode
Disadvantages:
Will need hird-wiring, which might require a professional installation
4K footage requires larger MicroSD card
Pricing: $589.99
Technical Specifications
Dimensions
2.5 x 4.3 X 1.4 inch
Resolution
Front – 4K UHD (3840 X 2160) @30fps or 2K QHD (2560 X 1440) @60fpsRear – 2K QHD (2560 X 1440) @30fps
Display Type
N/A
Mounting Type
Adhesive
Voice command
No
Camera
Front – 8.42MP Sony STARVISRear – 5.14MP Sony STARVIS
Field of View
Front: 150 degreeRear: 156 degree
Storage
Up to 128GB
Lane Assist
Yes
Speed Limit Indicator
Yes
Traffic Services
Yes
Battery
DC 12/24V, Built-in Super Capacitor
Lifechaser LC31 4K Dual Dash Cam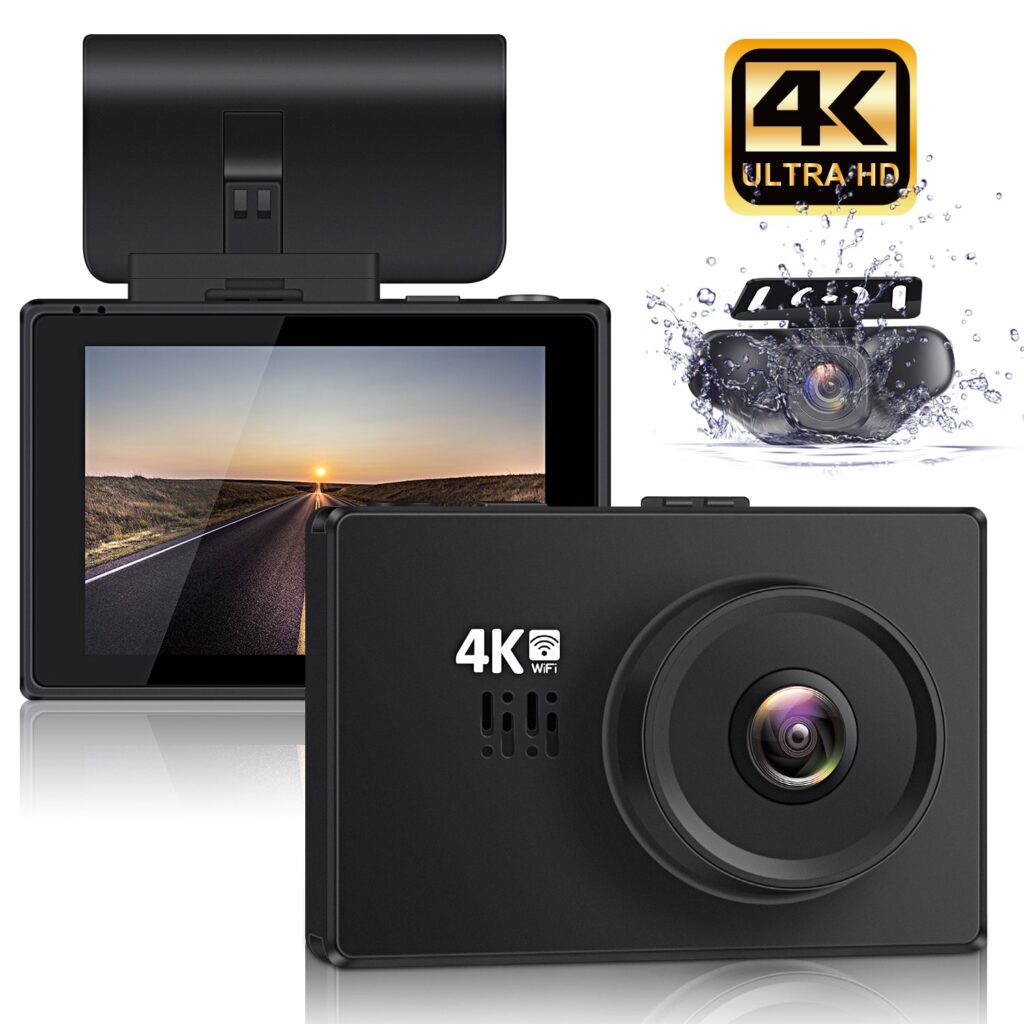 As one of the more affordable options on the list, the Lifechaser LC31 4K Dual Dash Cam is still packed with features. It not only provides a dual dash cam and GPS, it has one of the best mounts out of all the cameras we've listed. The small dash cam is able to be tilted and adjusted so you can see the OLED touch screen and have it in sight and reach where you need it. And its user-friendly interface makes it a hit with drivers.
Best For: OLED Touch Screen
Special Features:
3M Magnetic Mount
Durability
Superior night vision
Time lapse function
Benefits:
Liquid loop recording
Extended night vision
Dual channel recording 4K + 1080P UHD
Easy installation
Disadvantages:
SD Card not included
Only email assistance, no customer service phone number
Only records small time intervals
Pricing: $159.99
Technical Specifications
Dimensions
7.52 x 7.01 x 3.46 inches
Resolution
Dual-Channel Recording: 1920*1080P@30fps + 1920*1080P@30fpsSingle-Channel Recording: 2880*2160P@24fps; 2560*1440P@30fps, 2304*1296P@30fps, 1920*1080P@60fps, 1920*1080P@30fps, 1280*720P@120fps, 1280*720P@60fps
Display Type
3" OLED Touch Screen
Mounting Type
3M Magnetic Mount
Voice command
No
Camera
Yes
Field of View
150 Degrees
Storage
Up to 128GB
Lane Assist
No
Speed Limit Indicator
No
Traffic Services
No
Battery
Li-ion 400mAh battery
Why Use a Dash Cam With Built-In GPS?
When you are a professional driver, there are many tools that you can utilize to keep you and those on the road around you safe. But you also want to ensure that you're protected in case of an incident. That's why using a dash cam with a GPS built-in can protect you while keeping you on task and on the right track for each delivery.
Features to Consider With a GPS Dash Cam Combo
Each company will have different needs to consider when it comes to their dash cams. Some might not be pertinent to you, but when you're making a list of things to look for, consider the following items.
Size
Are you looking for a small dash cam? Or perhaps a hidden dash cam? Or size might not even matter as long as it isn't obstructing your view. Consider the size of your vehicle and the line of sight that's required to find a dash cam that fits into the size parameters you're looking for.
Mounting
There are many different types of mounts – suction, adhesive, and even magnetic. Consider the pros and cons of each type before determining which is the best for you. Suction cups are not always reliable and can lose suction over time. Adhesives can potentially leave marks when removed.
Discrete Wiring
Wires hanging all over the place would not be conducive to a good driving experience. They can be distracting and get caught on your hands and feet when entering or exiting your vehicle – making you rewire your dash cam. Find a product that is either wireless or has discrete wiring to save yourself the hassle. Be sure to understand what is required for installation before purchasing the dash cam of your choice.
Video Quality and Color
Consider the quality of the video and the color that is able to be viewed by the cam. If you think you'll need to playback the video and see precise details like license plates, you'll want to find a dash cam with a higher resolution and better picture quality – especially in low-light situations.
Memory (SD Card) and Storage
Understanding how much memory you need and the storage that it will take should play a factor. Most dash cams record in loops, which means if the video is not saved it will be recorded over. Make sure you have enough storage so you can have time to pull out the necessary videos when you need them the most.
Voice Commands
Being hands-free on the road is important for many drivers, and especially fleet managers. A dash cam GPS combo that has voice commands can keep you hands-free while stil keeping you up to date with your journey.
Road Updates
If you're using GPS, you likely want it to do more than just tell you the upcoming turns. A quality GPS will give you updates to your journey, including if there are accidents ahead, steep curves, and other pertinent data.
Traffic Services
Other GPS products also offer traffic services and help you reroute as needed. They take into consideration the vehicle specs that you are driving and help you get to your destination in the safest, most efficient way possible.
Dash Cam GPS Combos for All Price Levels
As we explored above, there are numerous options for GPS Dash Cam combos. From just a few hundred dollars and up, you can find a quality product that will get you from point a to b, while keeping the road under surveillance with a camera that can back you up when you need it most.
Be sure to check all the features that the camera provides to ensure that it covers everything you're looking for. Many come with added benefits like night vision and safety alerts! No matter which you choose, having a GPS Dash Cam combo can be a vital tool for you while you're behind the wheel.
FAQ
Why Do You Need GPS On a Dash Cam?
Having GPS on your dash cam can provide valuable data in case of an incident. It can pinpoint exactly where the accident took place and the speed you were driving – all of which will help the insurance claim process.
Can You Get Wireless Dash Cams?
Yes. There are dash cams that are wireless and dash cams that are wired.
Is There a GPS Dash Cam Combo?
Yes. There are numerous GPS Dash Cam combos that can help keep video recordings of your travels while providing GPS data.