Do you want a dash cam but have been hesitant to purchase one because you don't want to deal with the hassle of a professional installation? Then consider buying a solar-powered dash cam instead.
Not only will you be able to hook it up to the car yourself in just a few minutes, but there won't be any messy wires getting in your way. So, what is the best dash cam in the solar category?
While there are quite a few options out on the market due to the increasing popularity of the solar dash cam, we've narrowed down the options for you to take a look at and make an informed buying decision. Keep reading for more information.

Featured
Equip your fleet with advanced GPS tracking, AI-powered Smart Dashcam and reliable ELD compliance today!
Quicklook: Best Solar Powered Dash Cams
Best For Night Vision: Auto Vox Solar 1-P 
Best For Parking Assistance: Type S HD
Best For Battery Life: BOSCAM SunGo Pro
Best For Wide Views: Scosche WBUSSPF43 
Best For Value: Royal BC3000 
5 Best Solar Powered Dash Cams
Let's now dive deeper into the benefits and features of each solar-powered dash cam to see why it's the best in its class.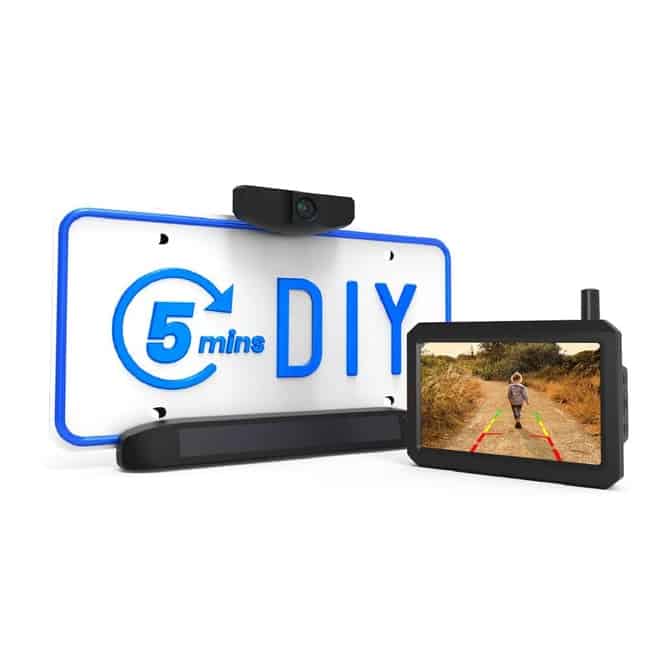 Auto Vox Solar 1-P
The Auto Vox Solar 1-P wide-angled camera delivers high-quality clear images to the driver. If you have trouble parallel parking or backing into spaces then this solar dash cam will be your perfect assistant, providing real-time reverse imagery. That also applies to the night vision mode which will give you a clear picture of what's behind you even with there's no light around. This standout feature sets this solar dash cam apart from the others. 
Best For: Night Vision
| | |
| --- | --- |
| Resolution | 480x272p |
| Built-in or External Solar Panel | External |
| Livestream Video Feed | Yes |
| Built-in GPS | No |
| Parking Mode | No |
| Rear View Camera | Yes |
| Cab View Camera | No |
| Night Vision | Yes |
Special Features:
2.4GHz wireless digital frequency hopping technology
Waterproof
Mounting bracket for U.S. license plates
Car charger with trigger button
Benefits:
Prevents interference from other wireless signals
Not damaged in heavy rains or going through car washes
Avoid traffic fines
Allows drivers to see rear view while driving
Given more than 90 seconds of reverse time
Disadvantages:
Range not made for larger vehicles
Must expose battery to the sun once a day
No touch screen
Pricing: $189.99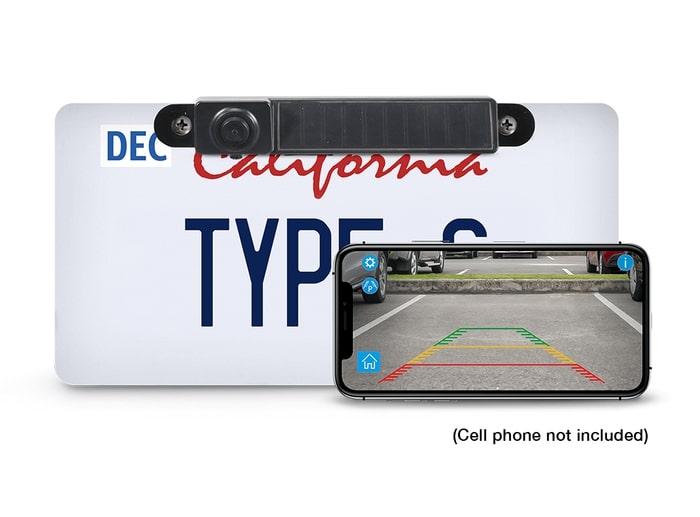 Type S HD
This solar powered dash cam comes with an extra battery built-in, and a 6.8 inch HD monitor full of features for a safer driving experience. The parking assistant is probably the greatest feature of the Type S HD solar dash cam. It has an integrated virtual assistant that makes parking and backing up a breeze.
Best For: Parking Assistance
| | |
| --- | --- |
| Resolution | 720 HD |
| Built-in or External Solar Panel | Built-in |
| Livestream Video Feed | Yes |
| Built-in GPS | No |
| Parking Mode | No |
| Rear View Camera | Yes |
| Cab View Camera | No |
| Night Vision | Yes |
Special Features:
Virtual Parking Assistant
Double Battery Capacity
Split Screen Mode
Weatherproof design
Benefits:
Parking assistant lines are adjustable
Automatically align to the vehicle's height for more efficient parking
Double run-time for cloudy days
See what's in front of you
Second camera is added to the front license plate
Withstands all weather elements
Images never get foggy or blurry
Disadvantages:
Takes a long time for battery to charge
Battery drains quickly
Pricing: $129.99
BOSCAM SunGo Pro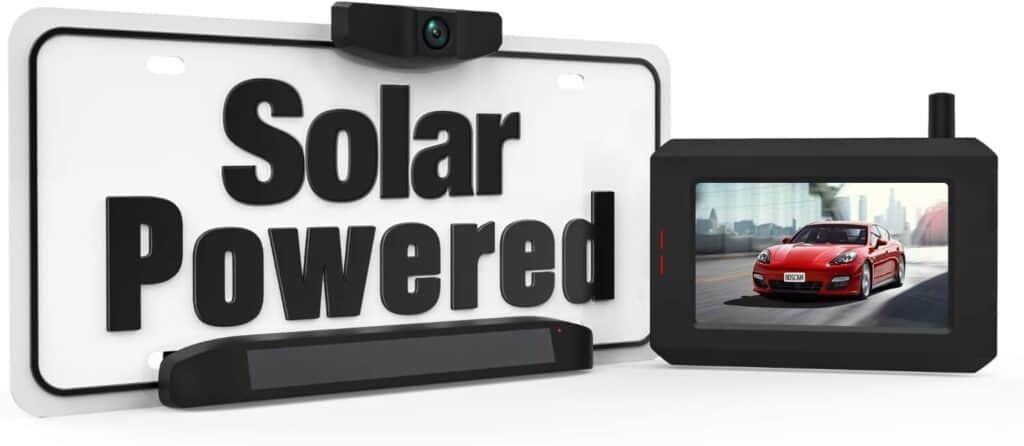 An easily installed solar powered dash cam is the BOSCAM SunGo Pro. Affix the solar panel and camera to your license plate, mount the monitor, plug in the car charger and you're ready to go. 
The specialized solar charging powers this camera for up to 6 months after being exposed to the sun for only half an hour. That can be a great feature, especially if you, for example, often keep your car in airport garages before lengthy trips.
You can come home and not have to worry about charging your solar dash cam.
Best For: Battery Life
| | |
| --- | --- |
| Resolution | 480x272p |
| Built-in or External Solar Panel | External |
| Livestream Video Feed | Yes |
| Built-in GPS | No |
| Parking Mode | No |
| Rear View Camera | Yes |
| Cab View Camera | No |
| Night Vision | Yes |
Special Features:
Monocrystalline Solar Panel
Universal Bracket
Digital Wireless
Lux Low-Light Night Performance
Benefits:
Higher efficiency charge
Flexible mounting and installation
Resistant to outside signal interference
Park safely with just your reversing light
Disadvantages:
Delayed signal transmission in longer vehicles
Lighter outlet used to power monitor
Pricing: $149.98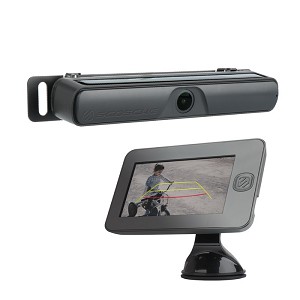 Scosche WBUSSPF43
With a 170° viewing angle, the Scosche WBUSSPF43 solar dash cam gives you excellent visibility during the day and at night. If you make deliveries, you'll appreciate the fuller view as it will keep you and others safe. You'll be able to back in and out of customer driveways easily as you go about your day. 
Best For: Wide Views
| | |
| --- | --- |
| Resolution | 480p |
| Built-in or External Solar Panel | Built-in |
| Livestream Video Feed | Yes |
| Built-in GPS | No |
| Parking Mode | No |
| Rear View Camera | Yes |
| Cab View Camera | No |
| Night Vision | Yes |
Special Features:
Wide-angle camera lens
Compact design
Powers automatically
Low-light image sensor
Benefits:
See everything in back of the vehicle
Does not obstruct license plate view
Conserves power
Provides clarity in dark conditions
Disadvantages:
Requires daily light exposure
Expensive
Suction cup mount not always secure
Expensive
Pricing: $99.99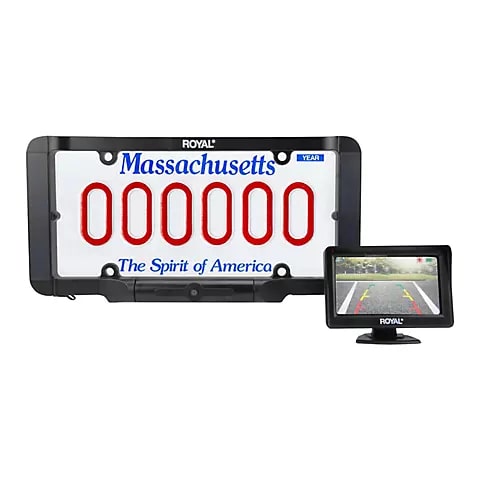 Royal BC3000
This option is for the more price conscious buyers who want the safety of a solar powered dash cam, but don't want to spend $200. Driving or leaving the vehicle parked for at least one hour will keep the battery powered for up to 3 months.
Best For: Value
| | |
| --- | --- |
| Resolution | 640x480p |
| Built-in or External Solar Panel | Built-in |
| Livestream Video Feed | Yes |
| Built-in GPS | No |
| Parking Mode | No |
| Rear View Camera | Yes |
| Cab View Camera | No |
| Night Vision | Yes |
Special Features:
High-resolution color monitor
Adjustable camera
Waterproof
Parking Assistance
Benefits:
Receive crisp and clear feed of your surroundings
Fix camera to suit your needs
Resistant to heavy rains
On-screen parking guides
Disadvantages:
Charge drains quickly
Large thick license plate frame
Lighter outlet used for monitor
Pricing: $129.99
What Is a Solar Powered Dash Cam?
Technically, at this time no solar panel is capable of directly powering a dash cam due to a lack of power. However, solar panels can charge a power bank that can then be used to power a dash cam.
Some people have installed solar panels to the roof of their vehicle to charge the power bank, which usually sits in the glove compartment as it keeps the camera powered on.
How Does a Solar Powered Dash Cam Work?
Back-up cameras don't require the same amount of power to operate as dash cams, so finding a solar powered reverse camera isn't difficult. They have a small solar panel attached or built into the camera that uses the sun's light to charge the battery.
Things to Consider With Solar-Powered Dash Cams
Before you make any purchase, you want to make sure you are informed and aware of the things you should look for. Here are some things to keep in mind as you browse the best dash cam options.
Power
The sun isn't the only source of power for a solar powered dash cam. Car chargers can also be used to pump juice into the battery. While these gadgets are pretty advanced and the likelihood of them breaking down is slim, you want to be prepared for anything.
Battery
Solar dash cams can be used in the same manner as other dash cams and that includes all of the features. Parking mode is a major feature in the best dash cams as it watches your car when you aren't around. Thankfully, being powered by the sun doesn't change this aspect.
Additional Fees
The majority of dash cams allow you to use a limited amount of cloud storage for free so that you can download footage as needed. There are subscription plans available if you need more storage.
Panels
Traffic violations and guidelines vary from state to state. So before you begin installing solar panels and mounting cameras anywhere in your vehicle you should check with your local motor vehicle department to find out what is acceptable.
Once you do, then you will have a better idea of what kind of device you should purchase to stay on the right side of the law.
Overheating
Even the best dash cam can overheat and power down if it is using a lithium battery. They are likely to melt or even explode in extremely hot temperatures, which is why we're not allowed to carry them onto planes. Many cameras will automatically shut down if they have been exposed to extreme temperatures, so overheating won't be a problem. Make sure your dashcam has this feature.
Image Quality and Field of View
While having a clear picture of what's happening outside your vehicle is a necessary feature for a quality dash cam, you also want to cover as many blind spots as possible. The wider the angled views, the better your field of view will be.
The main purpose of the dash cam is to provide a level of safety and security, so be sure to find a dash cam with broad views that won't stop short and cut off important viewpoints.
Get Empowered By The Sun
Whether it's a solar powered dash cam or backup cam, you can rest easy knowing that you and your vehicle are protected. These cameras are made to withstand some of the harshest weather conditions to keep you secure.
Looking for the company that offers fleet solution packages? KeepTruckin has the best in dash cams, GPS tracking and ELD compliance. Request a call today!
FAQ
How Long Do Solar Powered Cameras Last?
They can last for one to three years before the rechargeable battery must be replaced.
Do Solar Cameras Work at Night?
Yes. Throughout the day, the solar panel will send power to the battery and that battery will hold the charge well into the night hours. So, feel free to use your night mode!
Do Dash Cams Reduce Insurance?
Yes, most car insurance companies will give you a reduced rate for having the extra layer of protection for you and your vehicle.