Bills are coming up, trucks need fuel and your employees need payment. However, you're holding invoices that still aren't paid. Without that payment, how can you cover your expenses? What do you do?
Invoice factoring companies can improve your cash flow by paying you for your unpaid invoices. They'll buy your invoices at a discount rate, pay an advance and assume the responsibility of tracking down payment. This way, you have reliable cash flow to ensure you can cover your expenses month-to-month. Factoring may be just what you need to improve your business's finances.
Featured
As one of the industry leaders, TAFS assists trucking companies to increase cash flow with some of the lowest factoring rates in the industry and 1-Hour Advance option.
Quicklook: Top invoice factoring companies
Best for customer service: TAFS Inc. Featured ad
Best for fast payments: eCapital Featured ad
Best for full business banking: TAB Featured ad
Best for all fleet sizes: Porter Freight Funding Featured ad
Best for invoice management: Triumph Business Capital
Best for fast and easy setup: FundThrough
Best for trucking services: RTS Financial
Best for month-to-month contracts: TCI Business Capital
8 top invoice factoring companies
Check out these eight options if you're looking for the best invoice factoring companies to help your business.
TAFS
TAFS is a factoring company focused on developing relationships with trucking companies to help support their long-term financial growth. With over 15 years in the business, TAFS understands the unique challenges in the transportation industry, including the importance of 24-hour service. Offering the best customer service of any invoice-factoring company, TAFS also provides a wide range of other trucking business solutions. Among them are truck leasing, dispatching and business loans.
Best for: Customer service
Services:
Recourse and nonrecourse factoring
Open 365 days a year
Strong partnerships that can result in higher-paying freight and discounts
Fast turnaround, including a one-hour advance option
Fuel discounts
Maximum funding: Not available
Discount rate: Not available
Expected annual percentage rate (APR): As low as 2.49% for single-truck companies
Advance rate: Up to 100%
Minimum annual revenue: No minimum qualifications
Funding time: Same day or up to 24 hours
Minimum credit score: No minimum qualifications
BBB rating: A
Special features:
One-day turnaround options
Nationwide fuel discounts
Low rates for owner-operators
Roadside assistance program
Benefits:
Fast funding
Recourse and nonrecourse factoring
Positive industry reputation
Industry experience
Disadvantages:
No upfront loan amounts and rates
Must deal with customer service agents
eCapital
eCapital is a factoring company with premium freight factoring services. It advertises instant fund transfers, or within 24 hours, along with other services. Through eCapital, owner-operators can also have access to a line of credit and a Visa card for advances on fuel and additional costs. It offers a fuel discount program, load board and TMS system.
Best for: Fast payments
Services:
Instant transfers
Line of credit and Visa card
Fuel discounts
Load board with built-in credit checks
Maximum funding: Not available
Discount rate: Not available
Expected APR: Not available
Advance rate: Up to 95%
Minimum annual revenue: None
Funding time: Almost immediately after approval of invoice
Minimum credit score: None. Approval is based on the creditworthiness of customers.
BBB rating: A-
Special features:
Load board
TMS system
Fuel discounts
Line of credit
Benefits:
Quick funding
Instant transfers, even after hours
Other premium services
Money management system
Disadvantages:
No upfront pricing or rates
Must contact customer service to receive a quote
TAB
TAB Bank is a full-service financial institution, with invoice factoring services designed for the transportation industry. With TAB, you can get quick funding for invoices with no minimum credit requirements. You can also take advantage of TAB's other offerings, such as business checking, savings and financing.
Best for: Full-service business banking
Services:
Invoice and freight factoring
Business and asset-based loans
Business checking and savings
Maximum funding: Not available
Discount rate: Around 3.5%
Expected APR: Not available
Advance rate: Typically 60-90%
Minimum annual revenue: None
Funding time: In as little as 24 hours
Minimum credit score: No credit limit
BBB rating: A-
Special features:
Access to financial professionals as a resource
Funding as soon as 24 hours
Minimal documentation required
No credit requirement
Benefits:
In-house business banking
Funding as soon as 24 hours
Disadvantages:
No upfront rates
Not accredited by BBB
Longer funding time than some competitors
No other trucking services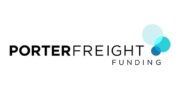 Porter Freight Funding
Offering freight-factoring solutions for mid-sized trucking companies and large fleets, Porter Freight Funding is an excellent choice for any transportation business. Along with capital freight factoring, Porter offers insurance options, fuel cards, equipment financing and dispatching. Plus, Porter customers are assigned a designated account executive who can help find specific solutions for your business.
Best for: All fleet sizes
Services:
Nonrecourse factoring
Recourse factoring
Freight brokerage
Dispatch services
Fuel cards
Business insurance
Maximum funding: $15 million
Discount rate: Not available
Expected APR: 1.5%
Advance rate: 95% to 100% for resource factoring and 100% for nonrecourse factoring
Minimum annual revenue: No minimum for up to two trucks
Funding time: 24 hours
Minimum credit score: None
BBB rating: A+
Special features:
Same-day funding
No customer credit checks
Flat pricing
Short-term contract options available
Benefits:
Dedicated client representative
No monthly minimums
Competitive advance rates
Fuel card and brokerage options
Disadvantage:
Triumph Business Capital
Triumph Business Capital makes it easy for trucking companies to keep up with invoices with premium factoring services. The MyTriumph web portal is specially designed for invoice management. It allows you to monitor and control your invoice-factoring needs, and check the status of payments. Triumph also has excellent back-office support that can help chase clients for unpaid invoices so you don't have to.
Best for: Invoice management
Services:
Recourse factoring
Nonrecourse factoring
MyTriumph online customer portal
Insurance offerings
Fuel cards
Equipment financing
Maximum funding: Up to $20 million
Discount rate: 1% to 4% per month
Expected APR: 12% to 72%
Advance rate: Up to 90%
Minimum annual revenue: $100,000
Funding time: Up to seven days
Minimum credit score: 500
BBB rating: A
Special features:
The MyTriumph online portal
Ability to run free credit checks through MyTriumph
High advance rate (90%)
Benefits:
Maximum control over invoices
Fuel discount program
Disadvantages:
Not integrated with accounting software
Slower funding time compared to competitors
Origination fee
FundThrough
Trusted invoice-factoring company BlueVine has partnered with FundThrough to offer more individualized attention to its freight-factoring customers. It also offers two funding options, Express and Velocity, which offer more customized options for trucking companies. With QuickBooks integration and a quick and easy application process, FundThrough is a great choice for small businesses and owner-operators needing cash flow.
Best for: Fast, easy setup
Services:
Invoice factoring
Credit lines for small business
Term loans for small business
Maximum funding: $5 million
Discount rate: 2.75% every 30 days invoice is outstanding
Expected APR: 13% to 70%
Advance rate: Up to 100%
Minimum annual revenue: $120,000
Funding time: 24 hours
Minimum credit score: 530
BBB rating: A+
Special features:
Other small-business solutions
Simple application process
System integrates with accounting software such as QuickBooks
Benefits:
Simple application process
Rapid funding
Large funding amounts
Disadvantages:
Requires personal guarantee
Higher payment amounts for short repayment terms
RTS Financial
RTS Financial has specialized in services and software for trucking companies since 1986. Although this freight-factoring company excels at dealing with high-volume invoices, it offers more than that. With a fuel card program and ProTransport trucking software, transportation companies can meet all their business needs in one mobile-friendly RTS Pro App.
Best for: Trucking services
Services:
Nonrecourse invoice factoring
Equipment leasing options
Trucking-related software
Maximum funding: Not available
Discount rate: Not available
Expected APR: 2.7% to 3.5%
Advance rate: Up to 97%
Minimum annual revenue: $150,000
Funding time: Within 24 hours
Minimum credit score: No minimum score
BBB rating: D
Special features:
Easy-to-use mobile app
Quality customer support
Integrations for other software support
Benefits:
No minimum-volume fees
No processing fees
Fast funding
Disadvantages:
Must apply by phone
Rates are hidden until after the application is submitted
Not accredited by BBB
TCI Business Capital
With over 20 years of experience offering invoice-factoring solutions for trucking companies, TCI Business Capital is prepared to help grow your business. With flexible, short-term contract options, TCI is great for trucking companies with seasonal fluctuations and inconsistent income. It also offers scalable solutions and has a straightforward application process.
Best for: Month-to-month contracts
Services:
Invoice factoring
Month-to-month contracts
Scalable solutions
Fuel card
Maximum funding: $20 million
Discount Rate: 1% to 4%
Expected APR: 12% to 55%
Advance rate: 90%
Minimum annual revenue: $600,000
Funding time: Up to three days
Minimum credit score: None
BBB rating: A+
Special features:
Reevaluates discount rates each month to see whether they can be reduced
Strong customer service
Benefits:
No long-term contracts
Easy onboarding
Variable rates based on volume and repayment rate
Disadvantages:
Quotes only available through an agent
Slower funding compared to competitors
What is invoice factoring?
Invoice factoring, also called freight factoring, works similarly to a collections agency for trucking companies. If your trucking business has unpaid invoices, a freight-factoring company will buy them from you at a discount rate. Your trucking company gets a cash advance while the invoice factoring company seeks payment. This process allows you to get the cash flow you need to keep your business operating.
How does invoice factoring work?
When you sell freight invoices to invoice-factoring companies, you typically do so for less than the original cost of the invoice. This difference is the fee the factoring company charges to assume the responsibility of getting the invoice paid.
While you don't get paid the total amount of the invoice, it's better than not receiving payment at all or not having cash flow to continue business operations. Once the factor purchases the invoices, they seek repayment from your original client. Invoice-factoring companies earn money by buying invoices at a discount and through fees. And your business doesn't lose out on payment from unpaid invoices.
Considerations for choosing an invoice factoring company
There are a few things to think about when searching for invoice factoring companies.
Overall cost
You'll want to consider two different costs:
Money lost when selling an invoice at a lower rate
Fees charged by the invoice factoring company
However, most businesses find that it's better to collect some of the value from their outstanding invoices than none at all. It's also better to have a consistent revenue stream with cash available. To minimize the cost to your business, look for a company with low factoring rates and transparent upfront fees.
Funding speed
If you need an invoice paid to cover a bill, you want to ensure you will get payment from the freight-factoring company in time. Some factoring companies pay for invoices in one lump sum while others pay on a predetermined schedule. Check to see which method the freight-factoring company uses and whether the funding speed works for your revenue stream.
Credit score requirements
Some invoice factoring companies have credit score requirements that determine rates and eligibility. Businesses with lower credit scores may find it difficult to find an invoice-factoring company or get charged more for their services. However, invoice factoring can improve your credit score over time. And some invoice factoring companies are more interested in your customer's credibility and on-time payment history than your business' credit score.
Time in business
The trustworthiness of a financial company often directly correlates with how long it's been in business. Invoice factoring companies with long track records of success and a positive industry reputation are more reliable options.
BBB rating and customer service
The Better Business Bureau helps protect consumers from undependable businesses. A company's BBB rating will indicate the level of service it provides and can help you choose an invoice factoring company with positive customer service. It's a good idea to check if a business is BBB accredited and if they have a high score.
Cash flow you can count on
Stop waiting on customer payments to be able to cover your bills. By partnering with a reputable invoice-factoring company, you can generate a reliable stream of income that isn't dependent on customer payment. The time you spend tracking down payment can be used for finding new loads and growing the business. With more time and money, you can focus on improving business operations to take your trucking company to the next level.
FAQ
How do you calculate factoring fees?
To calculate a fee, subtract the percentage rate from the invoice value. For example, if your invoice is $1,000 and the rate is 5%, your fee would be $50.
Is invoice factoring a good idea?
Invoice factoring can be a good idea when you have outstanding invoices and need fast cash to continue business operations. 
Which businesses need factoring services?
Businesses that invoice their customers for payment might need factoring services to get paid for outstanding invoices. Trucking and logistics is a great example, with freight factoring helping many businesses in the industry. 

Sign up for a FreightWaves e-newsletter to stay informed of all news and trends impacting supply chain careers and operations.