The Trucker Path ELD Pro is one of the most popular apps for truckers in the United States. This electronic logbook allows drivers to become ELD-compliant via simple technology on their phones! It conveniently tracks their hours of service (HOS) at their fingertips and provides fleet managers with real-time access to their drivers' locations.
But is it as efficient as it sounds? Read on to find out more about the Trucker Path ELD Pro and how it works. We'll discuss its key features and explain the benefits of switching from paper logs to the latest and greatest technology, like the Trucker Path ELD Pro!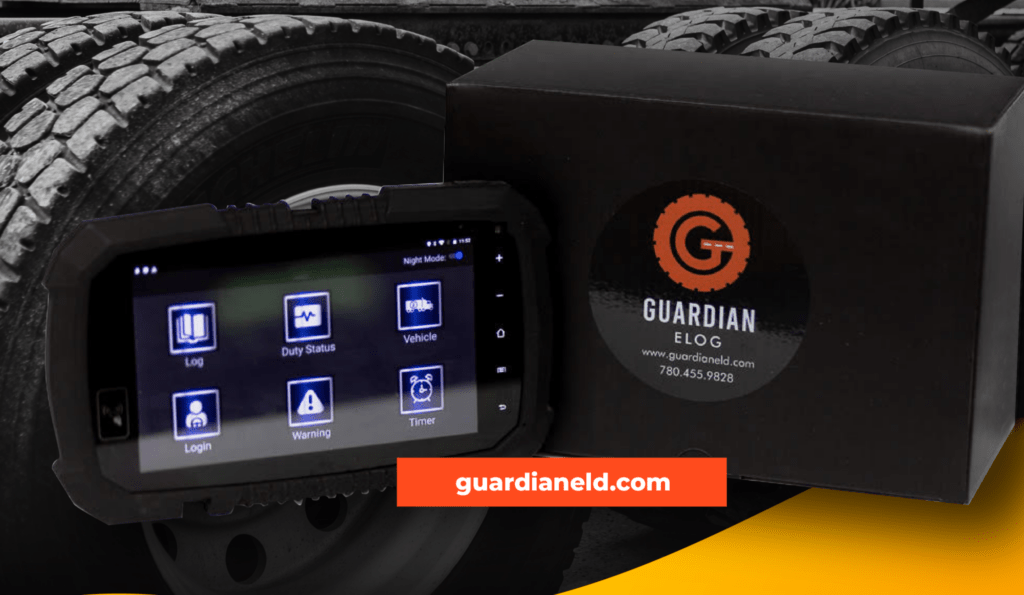 Featured
The Guardian ELOG provides the peace of mind that you are doing everything you can to preserve the integrity of your safety and compliance standards.
How Does the Trucker Path ELD Pro Work?
The Trucker Path ELD Pro is an app built by truckers for truckers. Its goal is to enhance drivers' safety and operational efficiency levels while keeping them compliant on the road.
This modern log records the moment drivers start working and stops once they finish their day. It reduces the time they'd otherwise spend filling out paper logs, which leads to fleet managers saving thousands of dollars over the course of the year.
Fleet managers can monitor hours of service in real-time through the app, which allows them to adjust duties efficiently if necessary. The Trucker Path ELD Pro app also shows drivers the up-to-date hours of time they've spent on the road, helping them become accountable for their HOS to ensure they are resting appropriately.
The Trucker Path ELD Pro keeps drivers FMCSA- and DOT-compliant. It offers GPS tracking, post-DOT inspection reports, electronic document delivery, DVIR, fuel tracking, and more, all within one app!
Trucker Path ELD Pro FAQs
If you're still on the fence about whether you should switch from paper logs to an electronic logbook, you're not alone. We've compiled some frequently asked questions about the Trucker Path ELD Pro to help you make an informed decision.
Does the Trucker Path ELD Pro Have IFTA Fuel Tax Reporting?
Yes, the Trucker Path ELD Pro does have IFTA fuel tax reporting. It calculates your MPG based on the distance you've traveled and the fuel you used along the way.
Can Fleet Management Teams View My Driving Behavior?
Yes, the app provides fleet managers with real-time tracking on your location, HOS, and behavior on the road.
Does the Trucker Path ELD Pro Detect Fault Codes With Alerts?
Yes, the app detects fault codes with alerts. The app has vehicle inspection and diagnostics features, meaning the Trucker Path ELD can detect and track fault codes.
Can I Edit My Logs on the Trucker Path ELD Pro?
You can edit non-finalized logs if you have forgotten to add a status change.
Can the Trucker Path ELD Pro Connect To Any Device?
When you go to download the Trucker Path ELD Pro from the App Store, you will need to make sure your device has an operating system of iOS 9.0 or later. When you download through Google Play, you will need to ensure your device has Android OS 5.0 or later.
As long as your device meets those software requirements and has Bluetooth capabilities, you can connect the Trucker Path ELD Pro to your phone.
Performance Factors of Trucker Path ELD Pro
When you're looking to make the switch from a paper log to an electronic logbook, it's vital that you find a solution that keeps the users in mind, like the Trucker Path ELD Pro. One of its best qualities is that it's a simple and easy-to-use app.
It offers a user-friendly interface that allows drivers to quickly operate their electronic logs without having to undergo extensive training. Plus, it's easily downloadable via Google Play or the App Store.
The app doesn't stop there. Outside of its FMCSA and DOT compliance, it also provides DVIR compliance within the app! The integrated Driver Vehicle Inspection Report (DVIR) is a requirement under Federal Law 49 CFR 396.11 and 396.13.
All commercial drivers are required to complete this inspection before each shift. Drivers must check the condition of the vehicle and confirm that it is in good condition. Any defects or issues are required to be marked and reported to fleet managers immediately.
The Trucker Path ELD Pro has an integrated DVIR solution, which makes it possible to keep all of your reports in the same place. It also has multiple checkpoints. And if your fleet comes across a DOT roadside inspection, you can easily transfer the data to inspection officers.
How Has the Trucker Path ELD Pro Improved?
After a detailed look online, we came across a few negative reviews from customers about customer service not being responsive and the app not properly tracking GPS locations. However, since receiving the complaints, the company took action and implemented app updates. So, the company has fixed the bugs to give drivers and fleet managers uninterrupted coverage.
Best For
Drivers and fleet managers who are looking to streamline their operations and increase efficiency find the Trucker Path ELD Pro to be incredibly appealing. It is the best app for the following reasons:
Efficiency
Ease of Electronic Logging
Compliance
Fleet Management
Tracking HOS
Utilizing the Trucker Path ELD for Your Fleet
If you've been searching for a trusted ELD that provides top-of-the-line functionality and compliance, you are making a great choice with the Trucker Path ELD Pro. As noted above, the previous versions caused headaches for drivers, but the company has since updated the app and corrected the problems. Now, it provides drivers and fleet managers with a smooth system that is very easy to use.
Whether you're looking for a tool to track your fleet or you just want to improve your fleet's compliance, the Trucker Path ELD Pro is a great solution. To see more reviews of the latest transportation technological advances, sign up for the FreightWaves e-newsletter. You'll get detailed reviews, like this one, to provide feedback on tools and apps that can help you improve your performance as a driver.
Cost
Trucker Path ELD Pro – $25.95/ month per truck.
Trucker Path ELD Premium – $39.95/ month per truck
It has all the same features as the Pro, as well as the addition of accident scene navigators, accident reporting, mechanic applications, and more.
Pros & Cons
Advantages
When you're looking for an electronic logging device, it's important to be aware of the pros and cons of the ELD you're considering. Trucker Path ELD Pro boasts the following benefits.
FMCSA and DOT compliance
GPS Tracking
IFTA Fuel Tax Reporting
Fleet Management System
Disadvantages
No matter how excellent technology can be, it isn't always sunshine and rainbows. There are downsides to everything, including the Trucker Path ELD Pro.
App isn't perfect and there are often bugs that need to be fixed.
Customer service team is not always the most responsive.
Brand lost credibility after its previous versions weren't up to standards.
User Reviews
Jason Parsons — 01/10/23
I have been with Truckers Path for a couple years. I was told they do IFTA reporting. They only do half the report. They do not keep track of the gallons purchased per state. They only keep your HOS logs for 6 months. Do yourself a favor, talk to Jose Allen with Motive, he will get you a great deal $22/month for the Keep trucking platform! They keep track of milage per state, gallons per state, and they keep your HOS indefinitely!!
Kurt — 09/01/22
If u lose cell signal mileage count becomes inaccurate and it will be stick on pairing trying to reconnect until you log off and back on. Doesn't tell you how much avail drive time you have left. Tech support personel I've talked to (3) are not very swift. I seen where my boss pays 25 a month per truck. I told her she's getting ripped off and to get rid of this garbage program. I being forced to use this. I personally wouldn't use if it was free.
Technical Specs
Coming Soon