Completing a post trip inspection is as important as the pre-trip inspection and should be the last thing you do for the business day. When completing this end-of-day roadside truck inspection, your goal is to ensure safety, prevent accidents and help your company control its expenses while hauling a load.
Learn more about what's involved in the 5-step post trip inspection, as well as how and why you should complete each of the steps.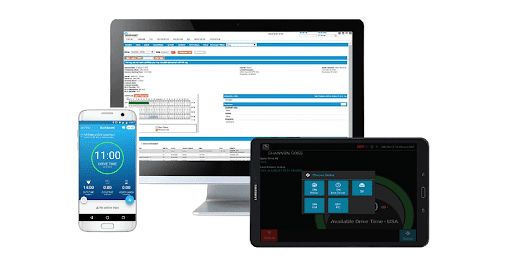 Featured
Go beyond ELD regulation and maximize the ROI of your technology investment. From improving driver workflows to increasing vehicle productivity and safety, we help fleets like yours utilize technology to optimize all parts of their business!
What Is a Post Trip Inspection?
You may have heard it referred to as a Driver Vehicle Inspection Report. That's because, during the inspection, you're looking for vehicle weaknesses or signs that something could be wrong.
Drivers complete the report at least every 24 hours on hauls that require more than a day of service. If you're stopping at a truck stop for the night, you can likely get a paper version of the form, or you can plan for a trip by downloading the necessary forms online.
During the inspection, you'll examine all components of your truck. The driver of the truck then signs the report stating if they found any faults or concerns. In the case of finding something concerning the truck, the driver should contact their mechanic or supervisor to discuss options for the condition.
Then, the mechanic or supervisor will sign off on the form. In addition to completing the post-trip inspection each day, you should complete an inspection before ending your shift and transitioning the truck to another driver.
Fleet managers should maintain the record for no less than 90 days. But if you're an owner-operator, you'll be expected to maintain these records.
How Do Post Trip Inspections Work?
During these exams, you'll review a post trip inspection checklist that ensures you examine the crucial aspects of your truck's mechanics. The post trip inspection should include reviewing the status of the following areas of the truck.
Brakes
Coupling devices
Emergency equipment
Headlights
Steering system
Taillights
Tires, wheels, and rims
Turn signal lights 
Windshield and wipers
5 Steps for How To Prepare for a Post Trip Inspection
Preparing for a post-trip inspection is fairly simple and involves 5 steps. Here's a look at how to improve your trucking company's compliance, safety, and cost-control.
Step 1: Create an Inspection Form
When creating your company's inspection form, think through how to make it as smooth as possible by organizing it in the same order that a driver would pass by the truck's mechanisms while completing a full walk around the truck's exterior.
You want the form to be cohesive, simple, and clear. A checklist format is something that most people recognize and provides a simple checkbox or location for notes about concerning conditions the driver observes.
Step 2: Give Drivers Proper Training
You must include pre and post trip inspection training in your truck driver onboarding process. Because each company handles it a bit differently, you cannot assume that your new drivers know how to complete your inspections.
Walk each new driver through the process slowly, taking time for questions and showing the driver what to look for as they walk around the vehicle. Do regular workshops and refresher courses for existing drivers to ensure everyone is giving the post-trip inspection the time and attention it deserves.
Step 3: Oversee Inspections
Post-trip inspections will happen inside your facility as the driver prepares to hand over the truck to the next driver. This offers an opportunity for you to observe a driver's inspection process.
Plus, you can also get the chance to intervene if you're seeing anything missing or concerned about how the driver completes the inspection. Coach the driver through those missing processes.
Also, ensure that the driver knows what they are looking for when inspecting the various aspects of the vehicle. Finally, you want to make sure the driver knows how to report an issue or vehicle concern if they were to find one.
Step 4: Create Clear Processes
Even once you have a solid post-trip inspection form, your work isn't done yet. You need to put processes in place so that drivers know what to do when they encounter a mechanical problem.
Drivers need a clear understanding of mechanical problems that should make them stop and talk to a mechanic versus one that just needs to be monitored throughout a trip.
You should have clear processes for the following aspects of vehicle inspections.
Park trucks awaiting maintenance in a separate area from those ready for their next trip.
Have clear processes for what a driver should do if the truck they expected to drive for a shipment today is now out of service due to a maintenance issue the previous driver found during the inspection.
Put notification processes in place to help guide drivers about whether their upcoming truck is ready for its next shipment or if they should be talking to dispatch about a different truck.
File post-inspection paperwork in a specific location where you can easily reference it and where drivers know to turn it in at the end of each trip.
Step 5: Implement Electronic DVIR
Use an electronic driver vehicle inspection report (DVIR) to make the process simple for your drivers and for your administrative team who has to house and maintain these reports.
Your software for your digital telematics system likely has an option for a digital vehicle inspection report. And your drivers will already be logging into this app for routes, information, and hour of service compliance. 
Implementing a digital process helps you save time, report issues to the relevant party quickly, build efficiencies, and foster communication to ensure smooth processes.
Importance of Post Trip Inspections
Completing a daily vehicle inspection isn't just about meeting compliance regulations. It helps ensure that you and other drivers remain safe on the roadways. Here are the top reasons to be fully focused and tuned in during a post inspection. 
Time To Repair Damages
Completing an inspection can help you complete transporting goods without an issue, which means more on-time deliveries for your customers and more repeat business. When you catch damage early, it allows time for your mechanic to fix the issue before it becomes a roadside problem that strands you for several hours, causing delays.
Problems are Noted and Reported
Mechanics can only help drivers when they know there is a problem. Having important details about what a driver sees on the vehicle can help inform the mechanic to decide whether the maintenance needs to be done right away or if it can wait until the truck reaches the next terminal. The inspection keeps everyone informed and ensures open, timely communication among parties.
More Eyes on the Vehicle
Because a driver must complete the inspection before handing over the truck to the next driver and then that driver must complete a pre-trip inspection, it helps put more eyes on the vehicle to ensure no one misses anything. Two drivers checking all crucial truck mechanisms are better than one.
Catching Potential Violations
Completing thorough pre-and post-trip inspections can prevent your business from facing costly violation fees. From there, you'll also have the cost-benefit of avoiding breakdowns and costly roadside repairs. So, overall, the exercise is an excellent cost-containment practice and ensures driver safety and compliance with all regulations.
Detecting Issues Before They Become Roadside Breakdowns
Driver vehicle inspection reports help ensure safety and efficiency in the trucking process. You'll be able to prevent most roadside breakdown scenarios and meet all compliance regulations for trucking. Put the five-step process in place to ensure you have clear procedures to follow and documentation methods in case of an audit.
FAQ
Why Is It Important To Do Pre- and Post-Trip Inspections?
 Pre- and post-trip inspections help detect mechanical issues before they fail and cause an accident or roadside breakdown. They are also required to comply with federal regulations.
What Is the Purpose of a DVIR?
A DVIR helps drivers and mechanics collaborate on the safety and drivability of a vehicle. It helps protect all motorists and the truck driver from a mechanical failure that could cause an accident.
What Items Should a Post Inspection Include?
A post-trip inspection could include reviewing the following aspects of the vehicle: brakes, coupling devices, emergency equipment, headlights, steering system, tail lights, tires, wheels, and rims, turn signal lights, windshield, and wipers.