Working with the right carrier can lead to greater job satisfaction and opportunities for advancement. It can also lead to a higher salary or more regular hours. Company size, location, driver training, and the quality of company vehicles can all have an effect on finding the right fit.
Drivers will want to look for carrier leads with the greatest benefits, from signup benefits to long-term salary and retirement benefits. Today we're looking at Holland Enterprises and Schneider Trucking. We'll discuss the strengths and weaknesses of each to help guide your decision. 
Don't be treated like a number and come work for a company that treats you like the professional you are.
What To Look for When Choosing Between Carriers
There is no one perfect company for all drivers. There are pluses and minuses to each one. Location is a major deciding factor for most drivers. Below you'll find a discussion of other factors to consider when considering a company to work for.
Company Size
Company size can have an impact on culture, support, and training. Larger companies will have more established systems, from driver training to dispatch. Smaller companies may offer more personalized benefits or personalized support. Personality and desire of each driver will dictate which type of company they prefer.
Pay and Benefits
Drivers should look at total compensation. This includes salary, bonuses, annual pay increases, signup bonuses, training compensation, insurance offers, and any other benefits. It's worth comparing total compensation in the first year with signup bonuses, as well as further years with standard salary.
Sign-On Bonus
Trucking companies may offer significant sign-on bonuses. It is not uncommon for sign-on bonuses to be $10,000 to $15,000. This can be equal to a third of the average total annual salary for a new truck driver. Especially if the driver has debt from CDL training, signup bonuses can be a deciding factor when selecting a new company.
Check contract terms when taking a sign-on bonus. Many require you to stay with the company for a specified period of time or work a certain number of hours.
Equipment Type
Equipment will become increasingly important as drivers spend day after day in the vehicle. Compare types of equipment with preferred vehicles. Consider tractors, trailers, semis, and other vehicles the company may require you to drive. It's also worth researching vehicle make and model, and how well the equipment is maintained. 
Driver Training and Licensure
Some companies will offer CDL training or compensate drivers for training costs. Others will offer additional driver training or a refresher course. Choosing a company that pays for CDL training can be a significant additional bonus and signup incentive. 
Company Vehicles
What type of vehicles does the company provide? Are they new or used? When were the last repairs and how often is vehicle maintenance? Well-maintained vehicles are essential for driver safety. They can also reduce stress on the road and increase comfort.
Lease to own options or options for drivers to lease vehicles and work independently can be attractive options for some drivers. Consider all the options each company offers to guide decisions.
Discounts
Some companies offer maintenance, insurance, and parts discounts which can help drivers keep costs down. This is often stated in the contract. Fuel cards may be included or offered at a discount. Repair and maintenance may be fully covered, depending on your contract.
Headquarter Location
Headquarters or locations are a major deciding factor because they will determine how much home time a driver gets. Most drivers want to work for a company that is close to their home. There are excellent companies in every region of North America. Choose one close to home.
Hiring Regions
Like headquarter location, the hiring region will dictate the region or area of most routes. Choose a company that is hiring in the region you want to work in. Just because a company has headquarters across the US doesn't mean it's hiring in all regions. Be sure to check which region is hiring of continental companies.
Driver Support
After salary, location, vehicles, driver support is the other essential consideration that will affect how drivers are able to do their jobs. The best companies have exceptional driver support. Drivers need to know the company is there for them.  Customer service, dispatch, and roadside assistance support are critical to the success of drivers. 
Review and Reputation
Drivers can also use the experience of past employees to guide their company decisions. Reviews on Indeed.com, the Better Business Bureau, and other sites are left by employees with recent company experience. Reading the reviews will give you a good sense of the company's strengths and weaknesses to help you make a more informed decision.
Holland Enterprises vs Schneider
A large or smaller company may be beneficial for your needs, depending on personal preferences, and location. Smaller fleets can be more responsive and flexible to maintain efficiency and manage costs.
Larger fleets usually have strong structures in place for driver support, maintenance and dispatch. Either size company can work for drivers. It depends on each driver's preference. Here is how Holland Enterprises compares to Schneider Trucking in terms of company size.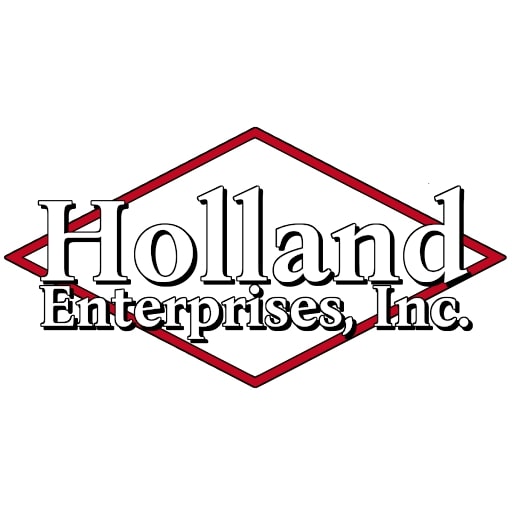 Holland Enterprises: Holland Enterprises has 300 tractors, 350 trailers, and between 201 and 500 employees. This small to medium-sized company has more than 40 years of experience on the road and is known for good driver support, company culture, and communication. Drivers are generally happy with Holland Enterprises and the career opportunities they offer. 

Schneider: Schneider is a large company, with 11,650 company drivers, 10,120 company trucks, and 33,830 trailers. Schneider hauls 19,318 loads per day. Drivers are generally happy with Schneider, although some would like higher salaries or better compensation. 
Pay and Benefits
Here is a comparison of pay between the two companies.
Experience Pay Scale
Holland Enterprises
Schneider
Less than 1 year
Drivers must have a minimum of 1.5 years of experience
$31,000 to $52,000
1 to 3 years
$0.50 to $0.55 base pay per mile plus bonuses
$43,000
4 to 10 years
Pay will depend on safety record and miles driven. Please contact company for more details
$55,000
More than 10 years
Average drivers will earn about $78,000 per year.
Top-performing drivers earn average annual salaries of $100,000 to $110,000.
$69,000Numbers are averagesTaken from Payscale.com
Drivers may earn more or less depending on experience and other factors.
Holland Enterprises Benefits: 
Flexible spending accounts
Health insurance
Dental insurance
Vision insurance
Voluntary plans:

Cancer
Critical Illness
Accidents

401k with 75% company match
Up to 6% of your compensation
Flexible benefits
Paid vacations
100% no-touch freight
Annual bonuses
Payscale based on years of experience and safety record
Schneider Benefits:
Health insurance
Dental insurance
Vision insurance
Flexible spending account
401(k)
Paid time off
Truck specs
On-demand pay
Discount programs
Average Sign on Bonus
A sign on bonus can be a significant incentive for drivers, and increase first-year salary by 20% or more. Here is how these two companies stack up when it comes to sign-on bonuses:
Holland Enterprises: Holland Enterprises does not offer a sign-on bonus.
Schneider: Schneider Trucking offers a sign-on bonus of up to $5,000.
Holland Enterprises vs Schneider: Tractor and Trailer Types
Some drivers prefer specific tractor-trailer setups or models. Newer setups with excellent maintenance will increase driver safety and comfort. Here is how these two companies compare.
Holland Enterprises: All tractors in the fleet are late model auto shift conventional tractors. The trailers are either refrigerated or standard trailers. In addition, the oldest tractors are from 2020, and those will be phased out within three months.   
Schneider: Schneider Trucking has 10,120 company trucks and 33,830 trailers. These include the following:
Dry van truckload
Intermodal
Bulk
Less-than-truckload
Refrigerated
Flatbed
Driver Training and Licensure
Driver CDL training and licensure can allow drivers just starting out to save on training costs and get started working sooner. Here is how each of the two companies stack up in the driver training and licensure sector.
Holland Enterprises: No training offered or licensure. Holland Enterprises only hires experienced drivers. 
Schneider: Schneider Trucking offers company paid CDL training, CDL apprenticeship training, or tuition reimbursement up to $400 per month. For those looking for starting CDL jobs, this is an excellent opportunity.
Location
For most drivers, company location will be one of the first questions when choosing who to drive for. Here is the location of each of these companies.
Holland Enterprises: 500 Carl Olsen St, Mapleton, ND 58059
Schneider: 3101 Packerland Dr, Green Bay, WI 54313
There are also 166 facilities in the United States, Canada, Mexico, and China.
Driver Support
Driver support improves driver experience, safety, and even hometime. Here's how Holland Enterprises and Schneider stack up when it comes to driver support. 
Holland Enterprises
Holland Enterprises offers 24/7 dispatch and after-hours emergency service. Drivers can call in by phone whenever it is needed.
Schneider
Driver support and dispatch, as well as personalized load recommendations, GPS tracking, fleet management, and the ability to instantly book loads from a loadboard.
Company Indeed.com Reviews
Both companies have a slightly above-average performance on Indeed.com. Here is what current and former employees had to say about their experience with each of these companies.
Holland Enterprises: 3.8 average Indeed.com employment review score
Employees are generally happy with Holland Enterprises company culture. Drivers who want to take on extra mileage are happy with the opportunities to work more hours. Unhappy drivers complained about pay or work-life balance, which can be an issue for truck drivers at any company. 
Schneider: 3.4 average Indeed.com employment review score
Employees had more polarized reviews on Schneider's company culture and work opportunities. Employees with less experience said it was a good starter workplace. Many employees with Schneider trucking jobs were happy with the culture. Dissatisfied employees mention long working hours and low pay as primary concerns.
Choosing the Right CDL Jobs for You
Ultimately, which company you choose will come down to preference. Salary, pay, and benefits can be major deciding factors.
Beyond that, location, company culture, equipment and maintenance all come into play for creating a safe, comfortable workplace. Both companies offer fair wages, a steady flow of mileage opportunities, insurance, and opportunities for bonuses or advancement.
FAQ
What questions should I ask a trucking recruiter?
Ask a truck recruiter about all the elements of a good company we discussed here. What type of vehicles do you have? How often are they repaired or maintained? What is the base salary? What are the bonuses? What kind of driver support and dispatch do you offer? And many other questions included in the article above.
Which trucking company is the best to start with?
Which trucking company is best to start with will depend on driver location, dispatch, and desired routes. Drivers should also consider salary and benefits, vehicles, and driver support.
What qualities make a good truck driver?
Good truck drivers should be focused and conscientious. Patience, stress management, reliability, and good communication all help in being a successful truck driver.