As a business owner in the transportation industry, you know that your fleet is always on the road. And while your trucks are making their way to their destinations, they're spending a lot of money on fuel.
While there's no way to get around this, there are solutions that can help your bottom line. The best gas cards for businesses can help you control and monitor your fuel spending and save you money in the process. With gas prices always fluctuating, these fuel cards can help you with perks like discounts per gallon and rewards back. Explore the list below to see which option best fits your business needs.
NO monthly service fees, NO credit score or SSN required, universal discounts, and a driver-friendly dashboard!
Quicklook: Best Business Gas Card Options
AtoB Featured Ad
Chevron and Texaco Business Access Card
U.S. Bank Business Cash Rewards World Elite Mastercard
Porter Freight Fuel Card
Bank of America Business Advantage Customized Cash Rewards Credit Card
BP Solutions Fuel Card
76 Universal Fleet Gas Card
Best Business Gas Card Options
Any business, regardless of its size, can profit greatly from a gas card. The more versatile the card, the more places you can use it and the greater your overall savings will be. Fuel is a significant expenditure, but it doesn't have to be one that your small business can't afford.
AtoB Featured Ad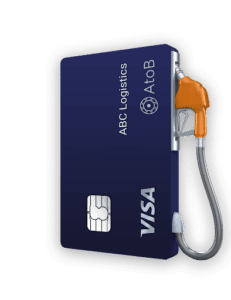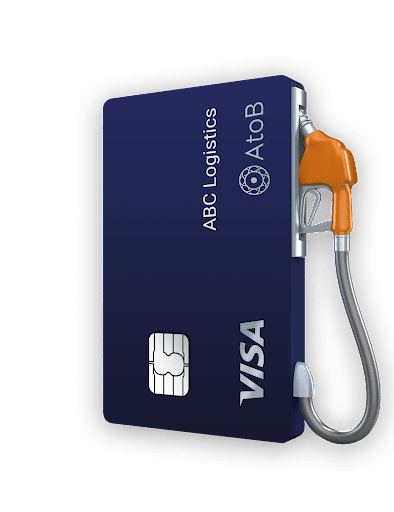 Best For: No Fees
AtoB fuel cards are one of the most appealing options available for drivers. First and foremost, this card is accepted anywhere and has absolutely no fees. That means no monthly service fee, no per-card fee, no setup fee, and no other fees that other companies tack on. Their platform allows you to track your usage live and set spending limits, plus other great features all within your dashboard. With their fuel card you can stay on top of your expenses in real-time.
Special Features:
No out-of-network stations
Easy set up
No credit checks
Benefits:
No fees
Competitive discounts on every gallon
Use on expenses other than fuel
Easily integrates with Quickbooks
Control per transaction, per day, and per week spending limits
Builds credit
Disadvantages:
Chevron and Texaco Business Access Card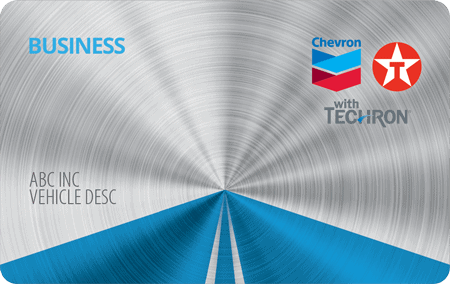 Best For: Small to Large Businesses
This business fuel card is perfect for businesses that have employees who frequent a particular Chevron or Texaco station. There are no setup fees or monthly costs, and it is accepted at all participating Chevron and Texaco stations.
Special Features:
In the United States, over 8,000 Chevron and Texaco stations accept this card.
To keep an eye on staff spending, you can set purchasing restrictions.
There aren't any setup fees or monthly costs.
Benefits:
Online tracking for all purchases
No setup fees, annual subscriptions, or costs associated with the card
24/7 customer advisors in the U.S.
Disadvantages:
Balances cannot be carried over with these cards.
If you don't pay on time each month, you'll be charged a minimum late fee of $75.
There are no gasoline cost rebates associated with this gas card.
This gas card is only accepted at Chevron and Texaco gas stations.
Pricing: The Business Access card program costs $2 per month per card, as well as a one-time $40 setup fee.
U.S. Bank Business Cash Rewards World Elite Mastercard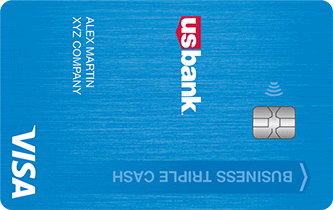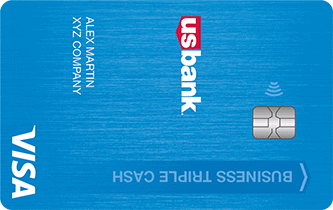 Best for: Small- to Medium-Sized Businesses
The U.S. Bank Business Cash Rewards World Elite MasterCard is designed for small- to mid-sized businesses that are in search of a fuel card with an excellent rewards program. Plus, there aren't any annual charges associated with this gas card.
Special Features:
Receive $500 in cash back after spending $3,000 within the first 90 days
Receive 3% cash back on qualifying purchases from the following:

Gas stations
Office supply stores
Cell phone and service providers

1% cash back on all other eligible net purchases
No annual charges
Up to 10 employee cards per account
Benefits:
Protection for your cellphone against fraud
Up to $1,000 per year for up to two claims of cellphone damage or theft
0% annual percentage rate on purchases for the first 12 billing cycles
0% annual percentage rate on balance transfers for the first 12 billing cycles
Receive bonus cashback rewards worth 25% of your previous year's earnings
Up to $250 in cashback rewards after holding the card for a year
Disadvantages:
High penalty APR of 29.99% for late payments
2% charge for transactions in USD
3% fee for transactions in foreign currencies
Pricing: $89 annually
Porter Freight Fuel Card
Best for: Fuel Account Management Portal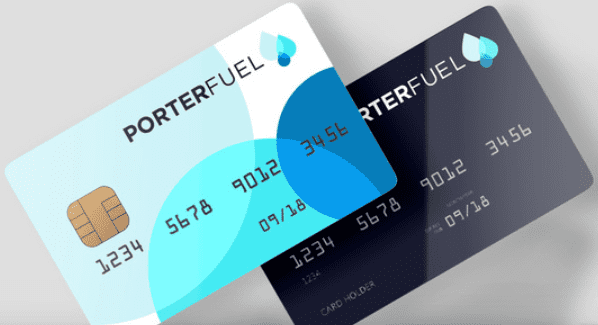 Porter Freight Funding offers some of the top gas cards in the industry to help you save money. They provide trucking companies with significant discounts at major truck stops around the country. These gas cards enable you to regulate and monitor spending, as well as set budgets and buy restrictions for your entire fleet.
Special Features:
EFS Online Portal
Easy to Manage your Fleets Spending
Benefits:
Accepted at over 14,000 stations nationwide
Credit line and fuel advances
Budget/Purchase Limits
Excellent Savings
No startup minimum or monthly fees
Disadvantages:
Pricing: Contact Porter Freight Funding to receive a personalized quote
Bank of America Business Advantage Customized Cash Rewards Credit Card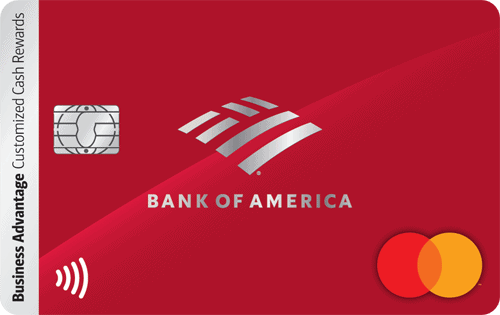 Best for: No Spending Caps
This gas card is great for large businesses that spend a lot of money on fuel. Without any spending caps, this card earns an attractive 2% cashback on every transaction.
Special Features:
Receive a $300 statement credit when you spend $3,000 in net purchases
Earn 2% cash on dining purchases
3% and 2% cashback on your first $50,000
1% cashback after that point
0% introductory APR on purchases for the first 9 billing cycles
Benefits:
Online & mobile access
Fraud monitoring
Cash flow management tools
Overdraft protection
0% APR for the first year
No annual fees
Disadvantages:
Low sign-up bonus of $300
Combined 3% and 2% cash back categories
$50,000 annual purchase cap
Pricing: No annual fee
BP Solutions Fuel Card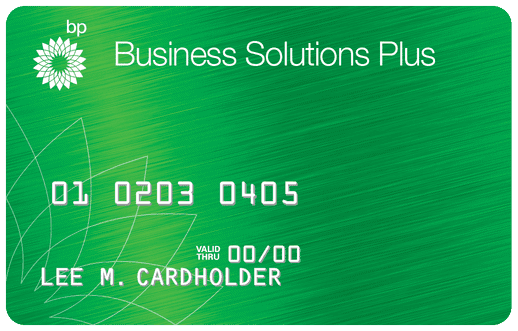 Best for: BP or Amoco Fuel Users
A premier card for BP or Amoco customers, and particularly for owner-operators that manage small to medium-sized fleets.
Special Features:
Daily, weekly, and monthly card limitations and restrictions
Secure online access to account information
Reports and statements are available 24/ 7
BP Solutions Fuel Card
Up to 6¢ savings with volume-based rebates
Benefits:
Security and fraud controls
Monitors after-hours purchases and daily transactions
Rewards are available when you fill up at BP or Amoco
Ability to deactivate lost or stolen cards online at any time
Accepted at thousands of BP- or Amoco-branded locations in the U.S.
Disadvantages:
$10 monthly charge if you buy less than 5,000 gallons of fuel per month
Not eligible for incentives with less than 300 gallons purchased per month
Pricing:
76 Universal Fleet Gas Card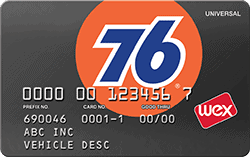 Best for: Regulating Driver Behavior
This card is great for businesses that are looking for a very secure gas card. You'll be able to better monitor and regulate your drivers' purchases and spending habits while also avoiding cases of illegal spending thanks to the 76 Universal Card.
Special Features:
Save up to $7 per gallon
Accepted at 95% of U.S. gas stations
Can be used at 45,000 service locations
Benefits:
Each month, you'll receive detailed, easy-to-understand reports.
There aren't any setup fees, monthly costs, or subscriptions.
You can use unique Driver IDs to track which purchases each employee makes.
You'll have online access to your mobile accounts.
Sign up for purchase alerts.
Disadvantages:
The 76 Universal Fleet Gas card still isn't accepted at specific locations.
Other gas cards have more impressive security controls.
Pricing:
76 Universal Card: monthly $2 card fee
76 Fleet Card: $10 account fee
How Does a Business Gas Card Work?
In addition to saving money at the pump, a gas card can also help you save money on a regular basis, which is exactly what companies like yours need. A gas card will make it possible for you to limit employee spending, detect fraud, track transactions online, and more. We've compiled a list of the finest business gas cards from our partners to help you earn more points per gallon!
What Makes A Good Business Gas Card?
Good business gas cards offer point-of-sale security and restrictions, which allow the business owner to plan ahead for upcoming expenditures. Most companies provide a web portal where you can access information regarding your gas card.
Also, if you want to give cards to drivers but you are concerned about unlawful service station transactions, a gas card will be beneficial to your company. But in order to be notified about purchases, you'll need to set up SMS or email notifications.
Track Fuel Consumption and Driving Behavior
Gas cards provide employers with the ability to track card usage and keep tabs on purchases that have been made. These tracking features allow employers to determine whether their company cars are functioning at maximum fuel efficiency.
Every time your employees fill up their tanks, you will receive an odometer reading. This will make it possible for you to figure out how many miles per gallon each vehicle receives.
Monitor Fuel Performance
Some gas cards provide logistics regarding fuel performance to help provide a way for fleets to save money on fuel while improving efficiency. This often can include identifying fuel usage amongst your fleet and find outliers using a dashboard.
Decrease Environmental Footprint
With a good fuel card or fuel tracker, you can reduce your ecological and carbon footprints by minimizing unnecessary fuel usage. You can easily manage your fuel consumption, which can help you decrease your contribution to greenhouse gas emissions and the emissions that your vehicles release into the air.
Cost Control
Fuel costs can add up very quickly, and unfortunately, paying for fuel is unavoidable because we need fuel in order to operate most vehicles. But with the help of a gas card, you can lower your costs overall.
Gas cards provide drivers with lower gas prices and discounts from participating gas stations around the country. Drivers can also use fuel cards as an alternative payment method. Some gasoline models work like credit cards with lines of credit, while others offer fuel advances, which function like pre-paid cards.
Fraud Liability
A gasoline card can provide drivers with peace of mind since they know they'll never run out of money for gas. Many gasoline cards can track IFTA reporting as well, making the procedure easier for its users, which can also prevent fraud.
Rewards and Cashback
Filling up your tank with a gas card can help you earn perks and discounts. Those points can be redeemed for cash back, transportation rewards, free products, and more thanks to fuel cards.
Employee Incentive Program
Aside from rewards and cash back, most of these cards don't include an employee incentive program. Some gas cards allow fleet managers to monitor fuel statistics, which can give them influence over their employees by allowing them to provide incentive programs to those who use gasoline more efficiently.
Utilizing a Gas Card to Help Your Business
Selecting the best gas card for your business will help you monitor your employees' spending, establish and/or improve your company's credit, and most importantly help you save money on gas!
Whether you have a small business or manage a large corporation, you're leaving money on the table if you do not utilize a gas card. After all, the average semi-truck spends approximately $70,000 in fuel annually. That's a lot of fuel and a lot of rewards you could be missing out on. Additionally, these fuel cards come with other benefits that can help you monitor and control your fuel spending, making them a win-win for business owners and managers.
FAQ
What is the easiest business gas card to get?

Here are some of the easiest gas credit cards to obtain for most that apply:

– Discover it Secured Credit Card
– Walmart Store Card
– Chevron and Texaco Gas Card
Is it worth getting a business card?
Business cards can help you keep your business expenses and personal expenses separate. That way, you can keep track of your company's spending habits with ease. Business credit cards are available to businesses of all sizes, and they can make it possible for businesses to secure better borrowing rates in the future.
Should I get a fuel card for my business?
Company gas cards can help you save money on gas for your company vehicles. They're also great for the purpose of keeping track of your company's fuel and maintenance costs.