A fuel card can help your small business save money by providing your employees with a convenient way to pay at the pump. The best fuel card for small businesses is one that has low fees, generous rewards, and impressive flexibility.
We'll outline the best options to help guide you in the process of making this valuable change to your business. With these suggestions in mind, you'll be able to take advantage of all possible rewards and rebates.
Easily manage your fleet's fuel and improve efficiency with the KeepTruckin Gasoline Hub.
Quicklook: Best Fuel Card for Small Businesses
Best For No Fees: Shell Small Business Fuel Card
Best For Large Rebates for Large Fleets: BP Business Solutions Fuel Card
Best For Largest Network of Gas Stations: 76 Universal Fuel Card
Best For Largest Fuel Rebate: Fuelman Deep Saver Card
Best For Managing Fuel Usage: Comdata Fuel Card
5 Best Fuel Card for Small Businesses Options
If you've been wondering, "What is the best fuel card for small businesses?" this is the list for you. We will showcase the best options and outline important pieces of information that you need to know about when incorporating these cards into your business model.
Shell Small Business Fuel Card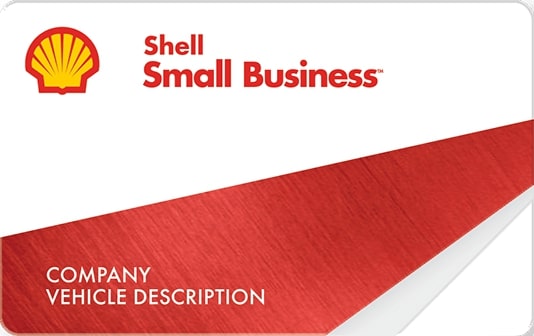 The Shell Small Business Fuel Card is specifically designed for small businesses, which means you won't have to risk your personal credit score or assets if something goes wrong and you can't pay the balance that is due. You'll reap great rewards all while avoiding monthly fees and set-up costs.
Best For: No fees and outstanding rewards
Regular APR: 26.74%
Fees: This credit card comes without any fees, meaning as long as you pay off your balance each and every month, you'll receive nothing but financial benefits from this card.
Rewards: Up to six cents off per gallon of gas at Shell gas stations and a 15% discount on Jiffy Lube services
Special Features:
Set limits on how much each user can spend
Manage the card entirely online, including adding or terminating users
View analytics to understand savings opportunities
Reduce the risk of fraud by requiring driver IDs
Benefits:
Zero fees as long as you pay off the balance of the card each month
Free real-time monitoring
Requires a relatively low credit score, which makes it good for beginners
No cost for additional users or cards
Option to view statements in a consolidated format or by user ID
Disadvantages:
Only usable at Shell gas stations
Only beneficial for relatively large fleets that fill up tanks regularly
BP Business Solutions Fuel Card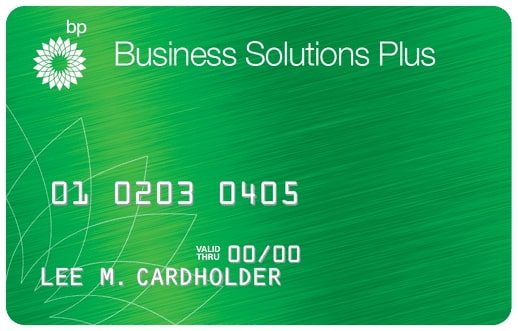 This fuel card isn't ideal for very small businesses that are just getting started because you'll need to purchase a fair amount of fuel for each billing cycle to really make it worth your while. But for larger companies, the card is beneficial in multiple ways as it doesn't come with any fees so long as you purchase 5,000 gallons worth of fuel.
Best For: Large rebates with few fees
Regular APR: No APR, but you must pay the balance in full each month since this is a charge card.
Fees: There is an account fee of $10 per month for companies that purchase less than 5,000 gallons of fuel.
Rewards: Rewards start at three-and-a-half cents per gallon once you've purchased 300 gallons of fuel in a month. The rewards can be as great as six cents per gallon, though it all depends on how much you purchase.
Special Features:
Fuel rebates start at three-and-a-half cents per gallon once you reach 300 gallons worth of purchased fuel. The rebates increase with the more fuel you purchase, reaching six cents per gallon when you purchase 10,000 or more gallons of fuel.
Accepted at 175,000 gas station locations
Set controls and limitations per day, week, or month
Benefits:
Real-time reporting on card usage
Set purchase controls to eliminate unnecessary spending
Use online tools to activate or deactivate your card
Customer service is readily available and based in the U.S.
Disadvantages:
Fuel payments at stations outside the BP network are subject to transaction fees.
You can only receive rebates when purchasing fuel from BP and Amoco stations.
The BP network has gaps in the midwestern, southern and northeastern parts of the U.S.
76 Universal Fuel Card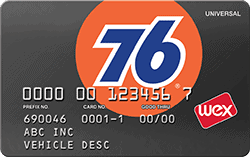 You can use the 76 Universal Fuel Card at over 45,000 locations across the country. That's 95% of all fuel locations! It's the most flexible fuel card available, but you do need to purchase a higher volume of fuel during each billing cycle in order to experience the benefits of the 76 Universal Fuel Card.
The biggest catch of all is that you can only receive fuel rewards when you use this card at one of the 7,600 Conoco, 76, or Phillips 66 locations. Look at the locations of these gas stations before you opt for this card.
Best For: Largest network of gas stations with rebates
Regular APR: No APRs as you must pay this card off each month
Fees: You'll incur a monthly fee of $2 per card after paying a one-time set-up fee of $40.
Rewards: Up to seven centers per gallon of fuel
Special Features:
Universally accepted at a wide variety of fuel locations
Option to pick from a fleet-based or universal card
Monthly reports with driver and vehicle specificities
Tools to reduce unauthorized spending
Benefits:
Excellent rewards for companies that purchase large volumes of fuel
No interest as long as you pay off the charge card balance on a monthly basis
One of the largest per-gallon rebates available
Disadvantages:
Wex administers the card, and the company is hard to reach.
The online resources and spending summaries are limited.
Rebates are only available from a small network of stations.
Some users report lag times when waiting to receive their rebates.
Fuelman Deep Saver Card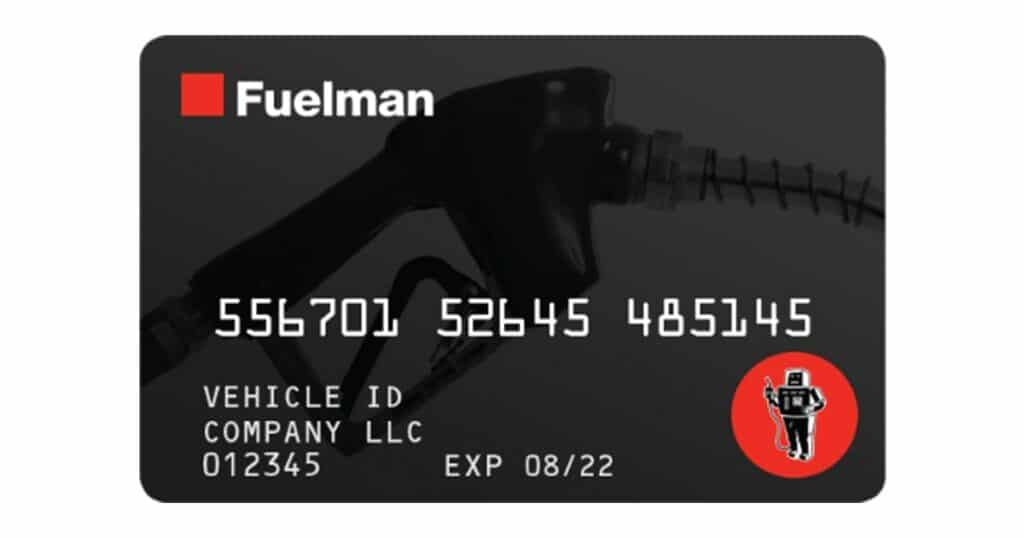 Fuelman offers several different levels of fuel cards to meet the needs of various sizes of companies and organizations. The Fuelman Deep Saver Card offers the most generous fuel rebates available, especially if you're purchasing diesel. Plus, you'll benefit from certain discounts if you use the card at convenience stores. It's widely accepted at more than 50,000 gas stations all throughout the nation. You'll reap the greatest benefits if you purchase anywhere from 1,000 to 5,000 gallons of gas per month.
Best For: Largest fuel rebate
Regular APR: Rates vary depending on the card you select and your credit rating. On average, an APR between 15% to 20% can be expected.
Fees: Based on your plan, you could end up paying up to $10 per card each month.
Rewards: Earn up to eight cents back on diesel purchases and five cents on unleaded.
Special Features:
Discounts at convenience stores, like Pilot or Speedway
Special rates and rebates for nonprofits and government fleets
Option to set spending limits
Able to activate access restrictions to cards for certain employees
Option to require the drivers' identification numbers before they can use the card
Alerts for unapproved activity
Strong purchasing controls
Reports that make budgeting and accounting simple
Benefits:
Largest network of fuel stations that participate in rewards
Low credit score requirements
Accepted at 50,000 gas stations
Rebates of up to eight cents per gallon for diesel and five cents for leaded fuel
Disadvantages:
Some features and prices vary based on the customer.
You'll have to apply to get full details about your exact benefits.
The mobile app is fairly antiquated.
The fees are not as transparent and clear as those of other fuel cards options.
Comdata Card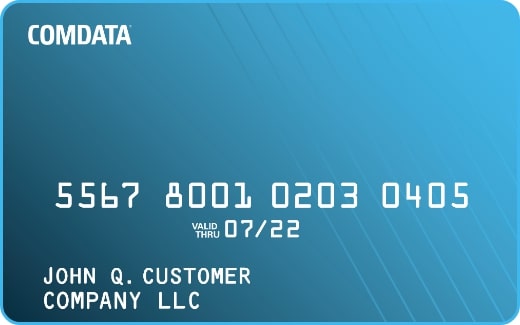 The Comdata Card is ideal for small businesses that manage no more than fifty trucks. However, it can service far larger businesses as well. It's best known for its mobile app, which makes it easy to find participating locations for the card, of which there are about 15,000 stations nationwide.
Best For: Managing fuel usage
Regular APR: There is no interest on this card as it's designed to be paid off each month.
Fees: The card costs $5 per card each month, in addition to a one-time $50 set-up fee.
Rewards: Pay the cash price for fuel at Pilot Flying J stations. You'll also save up to 65% on tires at more than 3,000 locations and 20% off hotels that are within the network.
Special Features:
Unique hotel discounts
Best-in-class mobile app
Driver payroll management tools
Benefits:
The FleetAdvance mobile app makes it easy to locate eligible gas stations.
Save money on other services, including hotel stays and tire replacements.
The app helps drivers find and pay for CAT scale transactions.
Disadvantages:
While many locations accept the card, it is not a fully nationwide card.
The $5 monthly fee per card is fairly high compared to leading competitors.
It does not offer the same type of rebate program that other fuel cards offer.
How Does a Fuel Card For Small Businesses Work?
Companies with vehicles on the road will have expenses, both when it comes to fuel and maintenance costs. If you have a decent-sized fleet, fuel could be your largest expense. So, fuel cards work in the following ways.
The business owner or company manager will set up the fuel card and assign rights to employees to use the card.
Each employee is assigned an individual spending limit based on their role in the company.
The fuel card tracks all purchases made online and provides a convenient way to document these expenses.
Drivers no longer have to retain physical copies of their receipts or manually fill out expense reports.
Administrators can download expense reports as a whole. You can also download a report specific to a particular driver's ID and look for ways to save on expenses.
Each time a driver uses a fuel card at a participating location, you can get money back in the form of fuel rebates based on your card's agreements.
There are easy budgeting options and estimation opportunities regarding what you can expect in terms of fuel expenses each month.
What to Consider With a Fuel Card for Small Business
As you take a look at the fuel card for small business options, consider these key aspects to get the greatest benefit from the card that you ultimately choose.
Minimal Fees
If a fuel card's fees are too high for you, you'll likely end up paying more to use one of these cards and reap fewer benefits along the way. Look for a fuel card with minimal fees, especially when it comes to monthly costs and annual fees. You can avoid problems pertaining to high interest rates as well by paying off the card balance each month, though keep in mind that there might be some fees that you cannot avoid nor reduce.
Low APR
In order to prepare for the off-chance that you run into financial difficulties somewhere down the line, it's a good idea to select a card that offers a low APR. That way, if you end up carrying a balance over from one month to the next, you won't have to face expensive fees.
Mobile Account Access
Both managers and drivers alike will appreciate a fuel card with good mobile access. Drivers appreciate the opportunity to search for in-network fuel stations, while managers will want to know how they're doing in terms of their monthly budgets.
Rewards
The greater the rewards, the greater the financial impact of your fuel card. Rewards can appear in the form of rebates for every gallon of fuel you purchase, or they might present themselves as discounts on common services that fleet businesses need, like oil changes or new tires.
Just be sure that the card's rewards align with your business and its needs. There are many different reasons why a company would manage a fleet, and each fleet is incredibly unique, so don't fall for a one-size-fits-all fuel card.
Spending Limits
Placing a limit of your company's spending budget is one of the greatest benefits of selecting the best fuel card for small businesses. Choose a card that allows you to set limits for each driver or each type of driver.
Placing limits on your employees' spending habits will help you stay in line with your budgets. Plus, it'll make things easier for you, especially when it comes to meeting your financial goals and objectives without checking your purchases weekly, daily, or even hourly if you manage a large fleet with many drivers.
Why Should Your Small Business Get a Fuel Card?
Getting a fuel card for your business will result in many great benefits for your company. Here's a look at why you should add this financial tool to your small business.
Eliminates the need to collect and document physical copies of receipts
Deep analytics to better understand your spending
Spending limits based on day, product, or another categories
Accessible spending reports from anywhere to make budgeting easier
Lost or stolen cards cancelled with the click of a button
Alerts about financial misuse to curb unnecessary spending
The Argument For Not Getting a Fuel Card
While fuel cards have many great benefits, there are several arguments against getting a fuel card, which you'll want to consider.
Reporting for personal use vs business use is hard.
You'll need to trust that your employees will use the card properly.
Drivers will need to learn how to use the card and input their data appropriately.
Your drivers will need to look up fuel stations that are within your fuel card's network and potentially go out of their way to secure the best savings.
Many cards include monthly per-card fees that you'll need to cover on a monthly basis.
Manage Fuel Expenses and Reduce Misuse
Fuel cards will provide you with the power to manage your fuel expenses, run reports on spending, set limits for how much each user can spend, and ultimately reduce the chances of misuse.
Fuel cards have a lot of benefits, especially when compared to standard company cards. Plus, they don't require drivers to turn in their fuel receipts. Small businesses can benefit from these cards immensely. To receive even more tips for small businesses and fleet managers, subscribe to the FreightWaves e-newsletter!
FAQs
Should I get a fuel card for my business?
If you offer a fuel program or reimbursement opportunity for your drivers, then you'll have far more management and insights into these expenses if you sign up for a fuel card for your business. Companies that provide per-mile reimbursement will not view a fuel card as being as beneficial for their business as other fleet management companies will.
What is the best fuel card for a trucking company?
Comdata is the best fuel card for a trucking company due to how outstanding its app is, and truck drivers love the app, too. It provides insights to company owners and resources to drivers, both of which can help the business thrive overall.
What is the easiest business gas card to get?
The easiest gas card is going to be the one that doesn't require a high credit score or extensive credit for small businesses. As such, the Credit One Bank Platinum Visa for Rebuilding Credit is a great option if you have limited or poor business credit.