Thousands of trucking accidents occur in the United States on an annual basis, and that number continues to grow. For many fleet managers and truck drivers, the dash cam has become an indispensable element of the commercial trucking industry.
This equipment will provide a clear record of the road conditions and circumstances when an accident occurs. Any footage may serve as evidence drivers need to defend themselves against costly claims.
The market for dashcams has grown over the years, and today you'll find a choice of dashcams with a range of features to suit your requirements.
Trimble Transportation is committed to connecting and simplifying the world's supply chain while empowering customers. Whether you're a carrier, intermediary, or shipper, Trimble can help you streamline operations, maximize business performance and increase profits.
Quicklook: Best Dashcams for Long Haul Truck Drivers
Six of the Best Dashcam Options For Long Haul Truck Drivers
We've picked six of the best dashcams for long-haul truck drivers and given you a rundown of their features so that you can choose the dashcam that best suits your budget and your trucking needs.
Trimble Dash Cam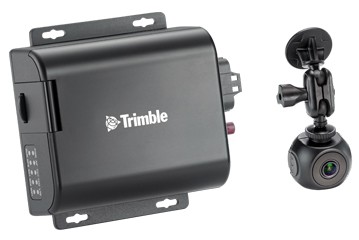 The Trimble dash cam forms an integral part of the Trimble telematics system, allowing fleet managers to monitor driver behavior and take corrective action where necessary. The rear and front cameras provide 360-degree footage with HD clarity and you can access the video footage via smartphone.
Best For Long haul trucking
Benefits:
Provides 360-degree HD footage
Video footage is available via smartphone connection
Remote monitoring of driver behavior
Front and rear cams
Twelve-hour sleep timer for footage when the engine is off
GPS tracking via MyGeotab and MyGeomap
Disadvantages:
Installation can be tricky
The Trimble dash cam is more expensive than most competing products
Pricing: Get a custom quote
KONEXIAL LOGI Cam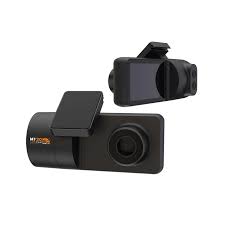 The KONEXIAL LogiCam is a great choice because it prioritizes your driver's safety. With both a front- and driver-facing camera, you can ensure that all your bases are covered. The built-in GPS ensures that all relevant details appear on accident footage. Driver alerts warn drivers of dangerous actions or conditions.
Best For Built-in GPS
Benefits:
Rugged, durable build
Remote monitoring via the app
Front and rear dashcam
Driver alerts
Easy installation
Disadvantages:
More expensive than many other dash cams on the market
Pricing: Get a quote
Motive Smart Dashcam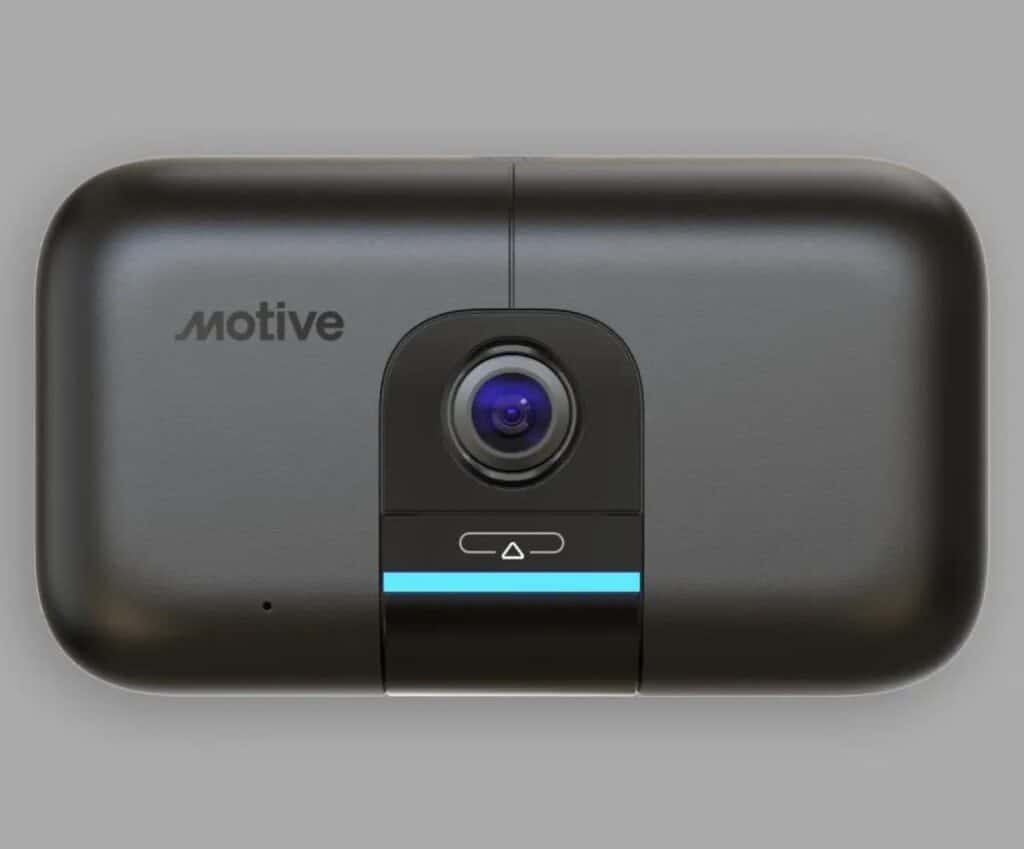 The Motive Smart Dashcam captures HD quality video at all times. Although the quality of the rear-facing camera is not as impressive as the front-facing camera, both still offer excellent clarity. The cloud-based storage of the Motive Smart Dashcam ensures that you never have to worry about losing footage.
Best For Cloud-based Storage
Benefits:
HD recordings
No SD Cards
No batteries
Cloud-based storage
Alerts coaches to driver unsafe actions
Automatically detects events
Tamper-resistant
Disadvantages:
Videos storage of only 35 hours
Pricing: Get a custom quote
VIOFO A119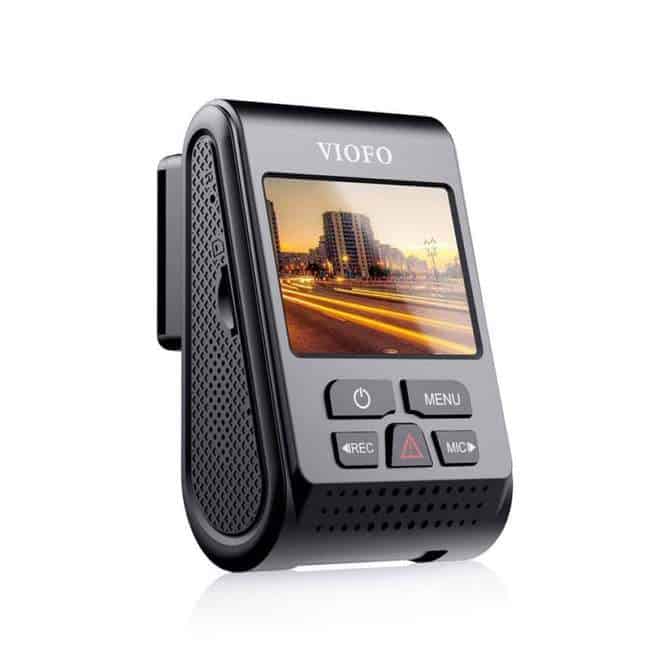 You'll never have to worry about your video being hard to view with the built-in, glare-reducing circular polarizing lens of the VIOFO A119. Between the upgraded GPS and the easy-to-swap microSD cards, this is one of the best dashcam options for your fleet.
Best: Affordable dash cam
Benefits:
Glare reducing CPL
Capacitor-based power
GPS module attachment available
Smooth HD video
Compact design
Uses MicroSD cards up to 128GB
Disadvantages:
No driver alerts
The GPS module is priced separately
Pricing:
Memory cards and GPS modules come with additional fees
Garmin Dashcam 66W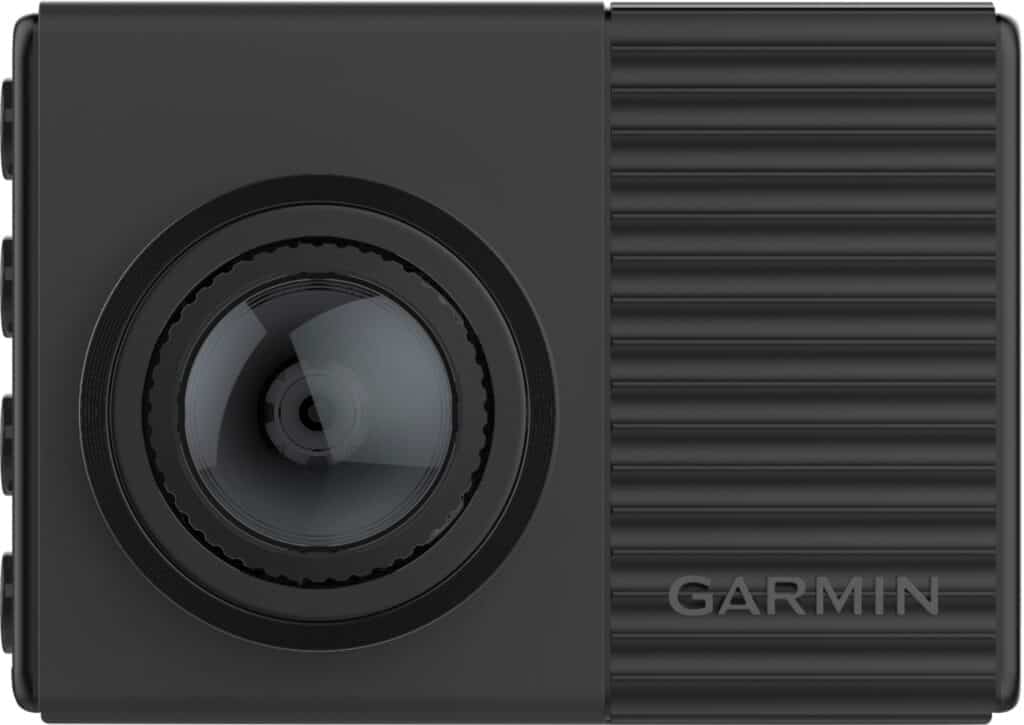 If you're looking for a dashcam that covers as much surface area as possible, then the Garmin Dashcam 66W is for you. It covers 180 degrees of footage and the videos are captured in 1440p HD quality. With its magnetic mount, discrete size, and slick design, the Garmin Dashcam 66W will ensure that everything is recorded when you need it most.
Best For Voice control
Benefits:
Offers driver alerts
Uses MicroSD cards up to 512 GB
Incident detection
Can auto-sync up to 4 different cameras
Ability to review footage via the Garmin Drive App
Automatic recordings
Compact design
180-degree coverage
Voice controls
Disadvantages:
MicroSD cards are not included.
Many helpful features require additional equipment.
Pricing: $249.99
REXING V1-4k Ultra HD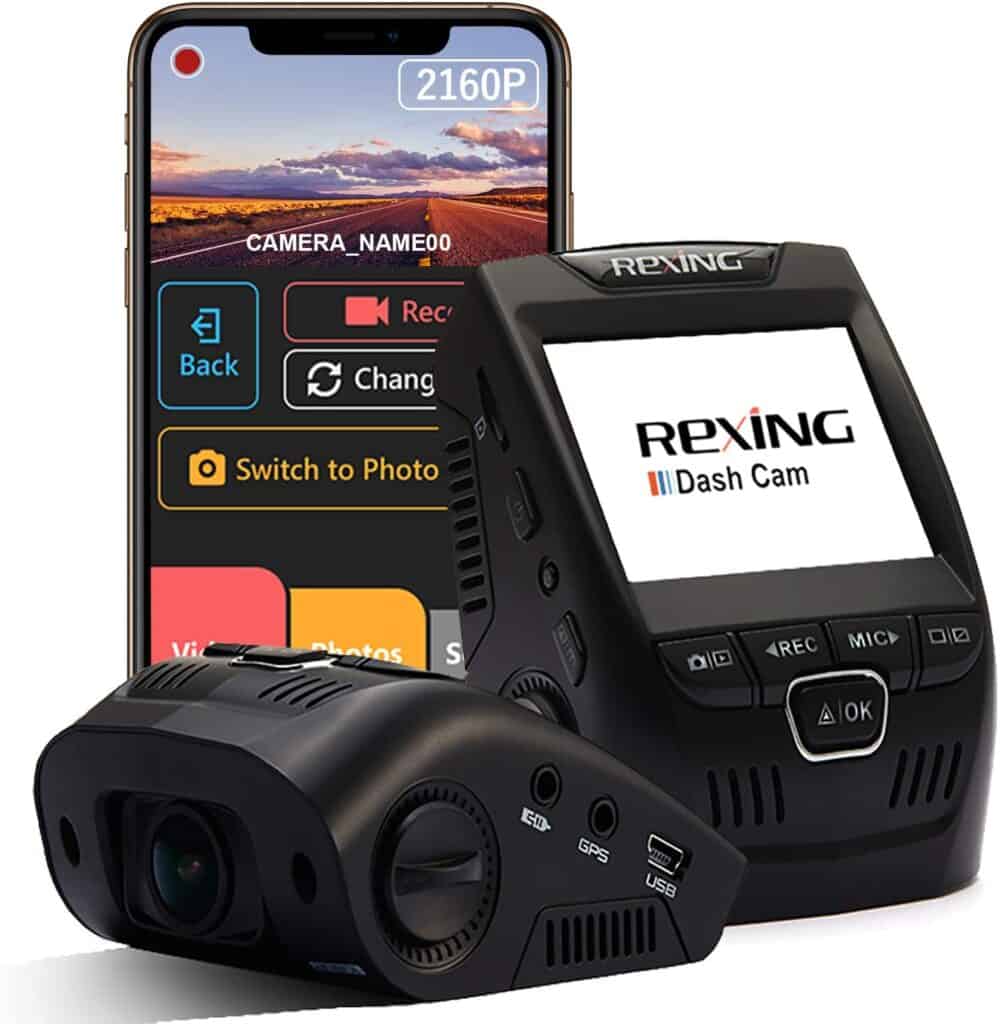 The Rexing V1-4k provides crystal clear footage of the road ahead regardless of the conditions. The supercapacitors of the Rexing V1-4k keep your devices safe from extreme temperatures. The camera will brighten nighttime and low light recordings so you can always see what's on the go.
Best For Top-tier Video Quality
Benefits:
Capacitor powered
Share footage wirelessly
Capacitor-powered
Loop recording options
Uses MicroSD cards up to 256GB
4k video quality
Ability to lock videos to prevent overwritten clips
170-degree angle
Brightens nighttime and low-light recordings
Disadvantages:
Additional tools sold separately
4K video quality fills storage quickly
Does not have a rear-facing camera
Pricing: $99.99
What Is the Best Dashcam To Buy
As the name implies, a dashcam is a camera situated on the dashboard. When positioned properly, it will film everything that takes place on the road ahead.
Whether your employer expects you to use a dashcam or you prefer to have one for your own peace of mind, dashcams are incredible tools. They make it easy to improve security and reduce the risk of accident liabilities.
Dashcams don't all offer the same features and they vary widely in cost. Here's what you need to look for in a dashcam.
What To Look for in a Dashcam for Long Haul Trucking
When looking for a dashcam, the first thing you have to consider is what you want from it.
Truck driver dashcam needs are greater than the needs of a regular driver. This is especially true for long-distance truckers or truckers who spend time in unfamiliar places. Here are some of the most important features that your dashcam should provide!
Night Vision and Motion Detection
Over long distances, you may have to drive late into the night. Night vision and headlights improve your ability to drive in the dark by making it easier for you to see the surrounding landscape.
No matter what, you should always have a clear view of what is happening around your truck. There may be times during many of your trips when you will park your truck at a truck stop to get a good night's sleep.
Whether you sleep in the truck or not, your truck must be safe at all times. Many dashcams come with motion detection so you can capture any and all break-ins or damage to your truck while you're resting or away.
High Definition Camera with Wide Angle Lens
If you try to identify a break-in or get the license plate of someone involved in a hit and run, you may find it difficult to get the information if the image quality is poor. With a high definition camera, you'll benefit from a clearer view of captured information.
With a wide-angle lens, you can record even more of what is happening. Wide-angle lenses can even capture the lanes next to you. The more area your camera covers while you are driving, the better!
A front and rear dashcam is also a good option as it records the road ahead and your actions on the road. This is helpful when working with insurance companies after an incident. If there are claims against you, you'll have proof of your actions and attentiveness at the time of the accident.
Capacitor-Powered
In the warm summer months, your dash will heat up because it's constantly in the sunlight. Over time, consistent sun exposure will damage your electronic devices, especially a battery-powered dashcam.
A great way to avoid any technical issues or complications is to use a dashcam that has a built-in capacitor. Capacitors are more heat-resistant than batteries. Capacitor-powered dashcams are also far more reliable than those powered by batteries!
User-Friendly Technology
Setbacks on the road cost you and your company time and money as you fall behind schedule. For this reason, you won't want to spend 20 minutes setting up your dashcam before you hit the road.
Finding user friendly technology that takes seconds to turn on and start, will help keep your team on schedule.
Storage
Increasingly dashcams record to a microSD card. These dashcams, are compact yet they have loads of storage space.
A microSD card is a better way to back up your dashcam, especially compared to dashcams that have a set storage limit. Such dashcams require you to manually remove content from storage before the system starts to record again.
If you're ever on the road when you run out of storage, all you have to do is pull over and swap out the microSD card for more storage space and fully-recorded coverage.
Smart Phone App Connection
Two great dashcam features are smartphone connectivity and Wi-Fi connection capabilities. These 2 available options allow you to control your dashcam with your phone rather than having to reach for your dashcam and remove it from its position. In some cases, you can even monitor the camera remotely.
Handless Voice Control and Safety Alerts
It is never wise to put yourself in a position where the controls on a smartphone or the dashcam distract you when driving. For safety reasons, a dashcam with voice control capabilities is key. Such technology allows you to start and stop your dashcam recordings as well as carry out any other commands without removing your hands from the steering wheel.
Some dashcams can be calibrated to alert you to drifting cars or notify you of the edge of the lane when you are too close. This helps to prevent any hazardous road conditions that could endanger you or the drivers around you.
GPS
While most people automatically think of mapped directions when they think of a GPS, that is not what the GPS on a dashcam is for. A dashcam with a built-in GPS makes it possible for you to see the location of the recorded events. This is very helpful in the case of an accident or where you need to show the insurers what happened.
Reduce Your Accident Risk
Dash cams have become essential tools for truck drivers and fleet managers. Their primary purpose is to record incidents and accidents giving you the information you need to protect yourself from undue claims. Your video footage may be the only evidence that you were not responsible for the damages incurred.
FAQ
Is It Worth Getting a Dashcam?
In short, a dashcam is well worth the initial investment. It is very useful in recording incidents and accidents, reducing the risk of liability for the driver, and offering evidence that could cut costs in the case of an accident.
Does Having a Dashcam Lower Insurance?
Having a dashcam will not lower your insurance premiums but it can have a positive impact on your claims because you have a record of the circumstances surrounding the accident.
Are Dashcams Legal?
In general, dashcams are legal in the US. However, there are laws that prevent obstructions on the windshield so you should find out what your state considers an obstruction.