Discovering the best dash cam for semi trucks means sifting through a wide-variety of brands and features. Once you know what to look for the task is simple, and we've assembled a list of the top dash cams for trucks below to simplify the process for you. So, keep reading and find the best dash cams for semi trucks or company fleets.

Featured
Get a near real-time, 360-degree view of your fleet's daily operations, so you can help reduce costs, increase productivity, stay on top of vehicle maintenance, and make the most of every business day.
Quicklook: Best Dash Cam for Semi Trucks
5 Best Dash Cams for Semi Trucks Options
Let's examine some of the most highly rated dash cams for semi trucks on the market.
KDLinks X1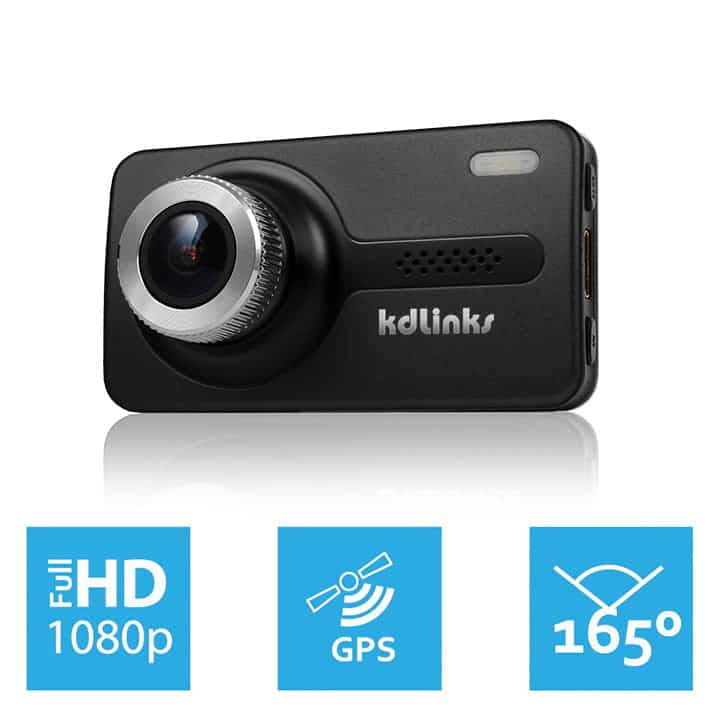 The KDLinks X1 offers 1080P high resolution video that records at 30 frames per second. And if you want more than just video, this handy truck dash cam also records audio. It performs well in harsh weather conditions and the motion detector captures anything on the move. This dash cam is the perfect companion for semi truck drivers.
Best For: Long hauls
Special Features:
Wide dynamic range (WDR) camera
110 mAh battery
Audio recording
Charging port
Benefits:
Wide view of road for better safety
Works well in extreme temperatures
Hear what the driver hears in case of a robbery or other incident
Ability to transfer data to PC
Disadvantages:
Software warranty not included
Repair warranty only for hardware
Wi-Fi not included
Pricing: $119.95
Technical Specifications
Dimensions
6.6 x 5.1 x 3.2 inches
Resolution
1080p
Display Type
2.7-inch LCD
Mounting Type
Suction Cup
Voice Command
No
Camera
Yes
Field of View
165°
Storage
32GB
Lane Assistance
No
Speed Limit Indicator
Yes
Traffic Services
No
Battery
110mAh
Video Quality
HD
Lens Type
Multi-lens
GPS
Yes
Night Vision
Yes
Garmin 55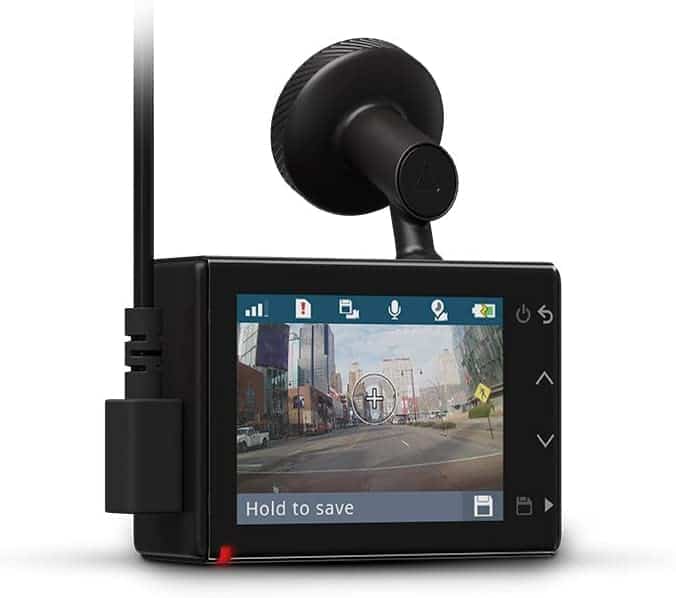 When you're monitoring a large fleet, it's important to have a truck dash cam that's dependable and easy to use. The Garmin 55 is a simple, small device that protects your fleet while they're on the road. The mobile app and camera itself are user-friendly, so even the least tech-savvy member of your fleet won't have difficulty operating the dash cam.
Best For: Large fleets
Special Features:
Compact design
Mobile app
Memory card included
G-sensor
Benefits:
Camera is discreet and unobtrusive
Download and review footage from mobile devices
Record hours of footage without interruption
Detects incidents and saves to another location to avoid it being overwritten
Disadvantages:
Small battery
Limited control through app
A bit pricey
Pricing: $199
Technical Specifications
Dimensions
2.2 x 1.6 x 0.8 inches
Resolution
1440p
Display Type
2.0-inch LCD
Mounting Type
Magnetic
Voice Command
Yes
Camera
Yes
Field of View
122°
Storage
64GB
Lane Assistance
Yes
Speed Limit Indicator
Yes
Traffic Services
Yes
Battery
Rechargeable Lithium ion
Video Quality
HD
Lens Type
Multi-lens
GPS
Yes
Night Vision
Yes
Rexing V1 4K
To those looking for an affordable trucker cam from a reputable dash cam brand, the Rexing V1 4K is the one for you. This single-lens dash cam works with both Android and iOS devices so you can utilize the supporting app. The Rexing V1 4K is a reliable piece of equipment that will give you the basics, making it perfect for shorter trips.
Best For: Short hauls
Special Features:
Wi-Fi included
Supercapacitor
Gravity sensor
Parking monitor
Benefits:
Connect to apps easily
Reliable in extreme weather conditions
Detects collisions and locks the video for future access
Automatically turns on and records when vibrations detected
Disadvantages:
Records at 24 fps and may produce choppy video
GPS tracking requires $30 accessory purchase
Memory card not included
Wide field of view (FOV) makes objects look further away
Pricing: $99
Technical Specifications
Dimensions
3.5 x 2.25 x 1.5 inches
Resolution
1080p
Display Type
2.4-inch LCD
Mounting Type
Adhesive Tape
Voice Command
No
Camera
No
Field of View
170°
Storage
256GB
Lane Assistance
No
Speed Limit Indicator
Yes
Traffic Services
No
Battery
Supercapacitor
Video Quality
QHD
Lens Type
Single lens
GPS
Yes
Night Vision
Yes
Vantrue N2S 4K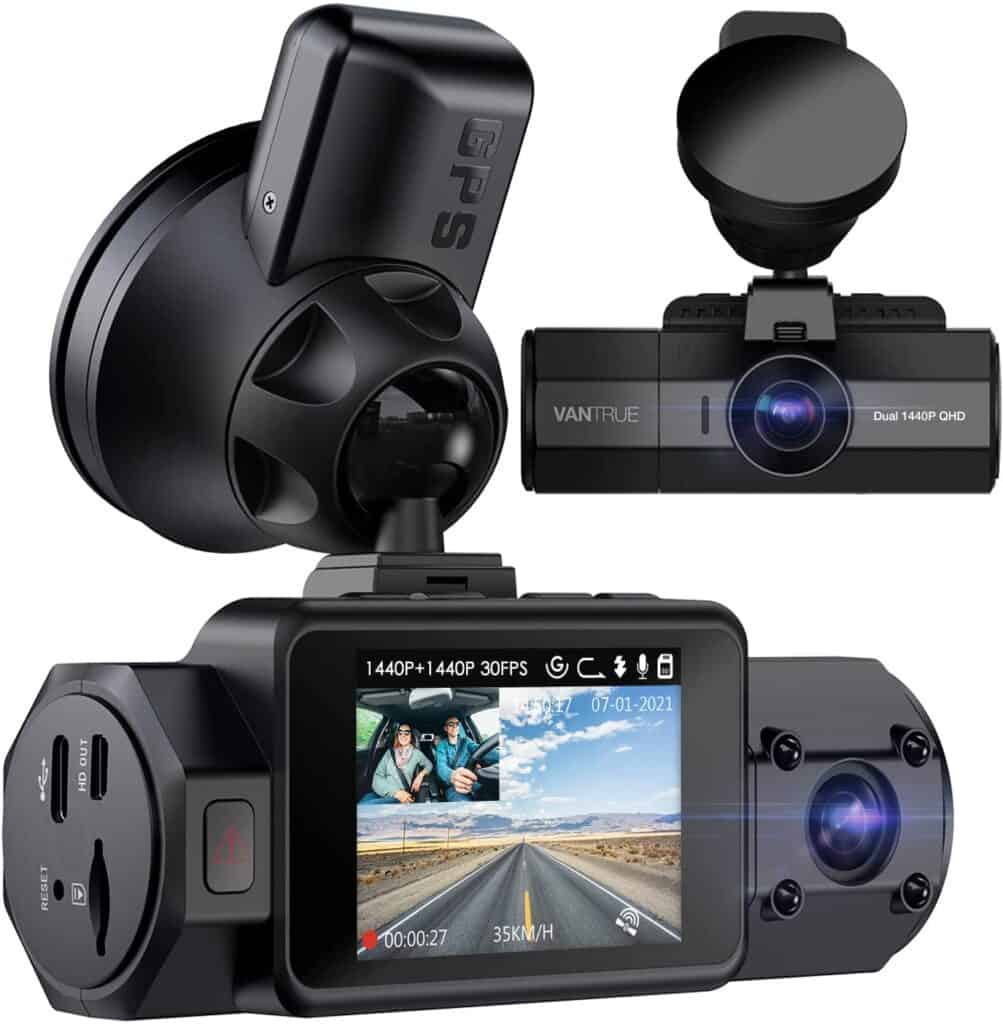 Stay informed with what's happening inside and outside the semi-truck with this dual dash cam. The Vantrue N2S 4K comes with an 18-month warranty and built-in GPS. The high-quality night vision in combination with the wide angled interior lens captures all the information you'd need to file an incident report. Four infrared lights are used in this truck dash cam to keep the cabin illuminated in the dark.
Best For: Night drivers
Special Features:
24/7 parking mode
Super high-resolution
GPS
Advanced WDR technology
Benefits:
Detects motion or collision when parked
Footage is exceptionally sharp and detailed
Route and speed tracking
Optimum performance in any lighting
Disadvantages:
No mobile app
Expensive
Records at 25 fps
Pricing: $219.99
Technical Specifications
Dimensions
4.25 x 1.73 x 1.73 inches
Resolution
1440p
Display Type
2-inch LCD
Mounting Type
Suction Cup
Voice Command
No
Camera
Yes
Field of View
155° front lens 165° cabin lens
Storage
256GB
Lane Assistance
No
Speed Limit Indicator
Yes
Traffic Services
No
Battery
Supercapacitor
Video Quality
QHD
Lens Type
Dual-lens
GPS
Yes
Night Vision
Yes
Samsara CM32

When safety is number one on your list, the Samsara CM32 is your best option. This trucker cam comes with a host of features designed to reduce accidents and keep road costs down. With hands-free voice controlled operation, this truck dash cam lets drivers stay focused on the road while adjusting the settings.
Best For: Safety-conscious owners
Special Features:
Intelligent AI and camera powered by computer vision
Built-in audio speaker
30 fps
Harsh event recording
Benefits:
Analyze road conditions and driver behavior in real-time
Smooth recording and playback
Coach drivers on hard braking, accelerating, turning, and other actions
Disadvantages:
Very expensive
Front lens not as wide as cheaper options
OBD port installation lacks portability
Pricing:
$399 for device
$600 annual licensing fee
Technical Specifications
Dimensions
4.2 x 1.6 x 2.4 inches
Resolution
1080p
Display Type
2.7-inch LED
Mounting Type
Adhesive
Voice Command
Yes
Camera
Yes
Field of View
121° front lens177° cabin lens
Storage
Cloud storage Up to 60 hours
Lane Assistance
Yes
Speed Limit Indicator
Yes
Traffic Services
Yes
Battery
1300mAh
Video Quality
HDR
Lens Type
Multi-lens
GPS
Yes
Night Vision
Yes
Why Is a Dash Cam Important For Semi Truck Drivers?
Dash cams for trucks are equipped with technology to improve driver safety and behavior. Fleets that use a trucker cam report increased visibility on the road and managers are able to use the footage to effectively train and coach drivers.
The truck dash cam allows fleet managers to see exactly what the driver sees when behind the steering wheel, which makes it easy to identify and coach dangerous driving habits. Because drivers know they're being watched they are more likely to follow the rules and practice safe driving habits.
A truck dash cam can keep them motivated to perform well, especially if the company offers a safe driver reward program. The semi truck camera system footage can also be used when road accidents occur to determine who or what caused the crash.
Discovering who was at fault can save the driver or the company thousands of dollars in fines if they aren't the responsible party. Since the recordings show what took place before, during, and after the accident, no one has to depend on faulty memories or sift through conflicting stories to get to the truth.
Many insurance companies offer discounts and lower premiums if a truck dash cam is installed in a fleet's vehicles. The trucker cam lets the insurance provider know that you take the safety of your drivers and trucks seriously.
Finding the Right Dash Cams for Semi Trucks
With various options on the market, deciding which truck dash cam is right for your fleet can be challenging. It's important to know what features you should look for to improve your fleet's overall performance. Let's take a look at some of the standard features your truck dash cam should have.
Video Quality
High video resolution is something to consider when purchasing a truck dash cam. The sharper the video quality, the easier it will be to identify people and objects when reviewing the footage.
The dash cam's resolution determines if the camera catches the most miniscule detail during a collision, or if the playback is fuzzy and objects are unable to be seen clearly.
The highest resolution for a trucker cam is currently 4K, which is comparable to a high-end TV or camera. Keep in mind that a dash cam with high resolution will come with a price tag to match, so make sure it's what your fleet needs before you make the investment.
Lens Type
A single lens trucker cam captures the view of the road in front of the driver. These road-facing cameras match the driver's perspective and increase visibility.
Dual dash cams contain two cameras, one faces the road and the other faces the driver. The duality is helpful when needing to prove a driver's innocence by showing they weren't distracted during an incident.
A dual trucker cam is also great for quickly detecting distracted drivers and having them correct their behaviors. The footage can be used for driver coaching sessions with other employees also.
The multi-lens semi truck camera system provides the best coverage. These dash cams eliminate blind spots with a 360° view of the truck and surrounding road.
Semi truck drivers really benefit from the exterior cameras on the side that make lane changing safer and easier. Drivers can also see objects or other vehicles with the rear-facing dash cam, making backing up a breeze.
Multi-lens interior cameras not only monitor the driver but the cargo as well. The additional layer of security reduces instances of vandalism and theft, saving companies money, time, and reputations.
Night Vision
Research data shows the most serious accidents occur at night, so it's extremely necessary for a truck dash cam to have night vision. Many semi truck drivers make long hauls that have them driving during nighttime hours, and a dash cam that is able to capture clear, detailed footage will provide evidence for law enforcement when called to the scene of an accident.
Night vision is really an advantage when driving through areas with dim lighting or no streetlights at all. Night vision gets rid of the dark and the picture comes through as if you were driving during daylight hours. Even when it's pitch black outside, drivers will see objects and cars clearly in full color, adding an extra safety net to their drive.
GPS
GPS tracking records the vehicle's speed and location data. That information can be used when filing an insurance claim to prove where the incident took place and how fast the driver was going. The information is also vital when there's a collision, as it shows the street names, position of other vehicles, and driving speed just before impact.
Memory (SD Card)
Dash cams for trucks need quality SD cards that don't fail on them and have a high storage capacity. The 32GB SD cards record about 1 hour to 3 hours of footage, which may be enough for shorter hauls.
However, if you're using a truck dash cam equipped with a parking mode feature, you'll need at least 64GBs, which gives you 3 to 5 hours of recording time. If driving for longer periods, a 128GB card will provide 6 to 10 hours of material.
Keep in mind that front facing cameras use less space than multi-lens dash cams and are able to record for longer periods. If using a multi-lens trucker cam, you will find your SD card fills up faster, so you may need more than one.
Extra Features
Additional features like voice alerts for lane drifting or tailgating, increase road safety. Rolling stops, hard braking and accelerating are recorded and the data can be used to train other drivers. Dash cams for trucks can make fleet managers jobs easier by flagging videos for review and permit them to pre-configure thresholds for harsh events for semis.
Extra features may also contribute to lower insurance premiums, so it's important to know what your fleet requires and weigh the cost benefits of having a trucker cam with loads of features against one that meets basic needs.
Choosing the Best Dash Cam For Your Semi Truck
Dash cams for trucks are pretty standard these days. The technology not only keeps everyone on the road safe from potential hazards, but it also secures the merchandise being transported. Shippers will find your attention to security reassuring and trust you with their goods. Drivers will appreciate the safety features that increase their visibility, giving them peace of mind while they're on the road.
FAQ
Which Dash Cam Is Best for Semi Trucks?
The best dash cam for semi trucks is a multi-lens device that offers 360° coverage and comes with 4K resolution.
What Dashcam Do Truckers Use?
Truckers use dual dash cams that record both the exterior, like the road and other cars, as well as the interior of the cab.
What Is the Best All Round Dash Cam?
Garmin is a highly respected name in the truck dash cam world, and many fleets use their cameras.