The average truck driver will log thousands of miles every year. Many even crack the 100,000-mile mark. While all of this hauling can mean big profits, it also increases the risk of being involved in a crash. Unfortunately, an overly opportunistic motorist may use this as an opportunity to file suit and attempt to cash in at your expense.
Whether you are an owner-operator or logistics company, you need to protect yourself and your drivers from frivolous suits and other hazards. Many drivers are turning to 4K dash cams to fill this need. However, there are dozens of cameras on the market and various state and federal laws for their use, which makes finding a quality one challenging.
To help make your decision easier, we have compiled a list of the top 8 dash cam options for truckers.
What is 4K?
Simply put, the term "4K" refers to the horizontal display quality. A 4K dash cam has roughly 4,000 pixels, which provides excellent resolution. While there are alternative resolution qualities available, 4K is the only choice when you're looking for the best dash cam for truckers.
The image quality of 4K cameras is much clearer, which is important with wide lens devices. Since commercial trucks are the largest vehicles on the road, you will need a wide angle, which means you also need a 4K dash cam.
Best 4K Dash Cams: Options for Truckers
During our review, we provide a detailed features list for each camera. In addition, we give you a basic price point and manufacturer information so that you can choose the best dash cam options for your business. Let's get started!
1. Viofo A129 Pro Duo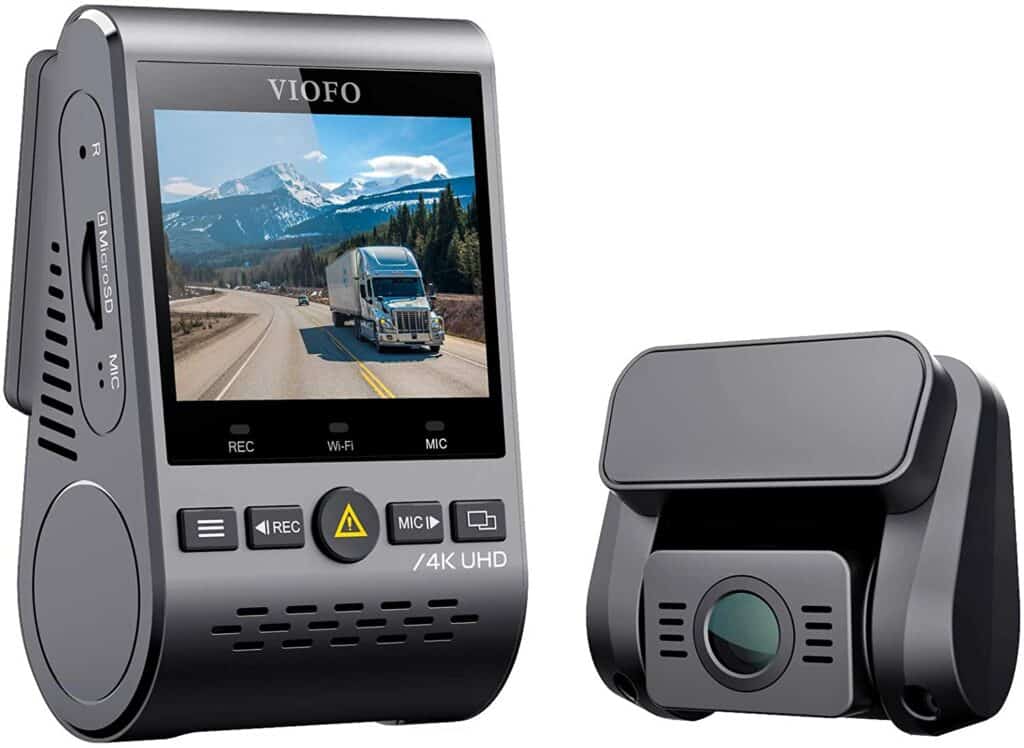 The first entry on our list is made by a relatively unknown company called Viofo. Despite flying under the radar, they make excellent 4K dash cams, like the A129 Pro Duo. The Duo is actually two separate cameras, one front and one rear-facing.
It utilizes a high-quality Sony camera and even has a GPS sensor. You can expect to pay right around $250 for this camera, but you may be able to get a discounted rate if buying a bulk order for your fleet.
Pros
Loop Recording
GPS
Dual cameras
Reasonably priced
Cons
Frame freezes in low temps
Will need an aftermarket adhesive patch
2. Rove R2-4K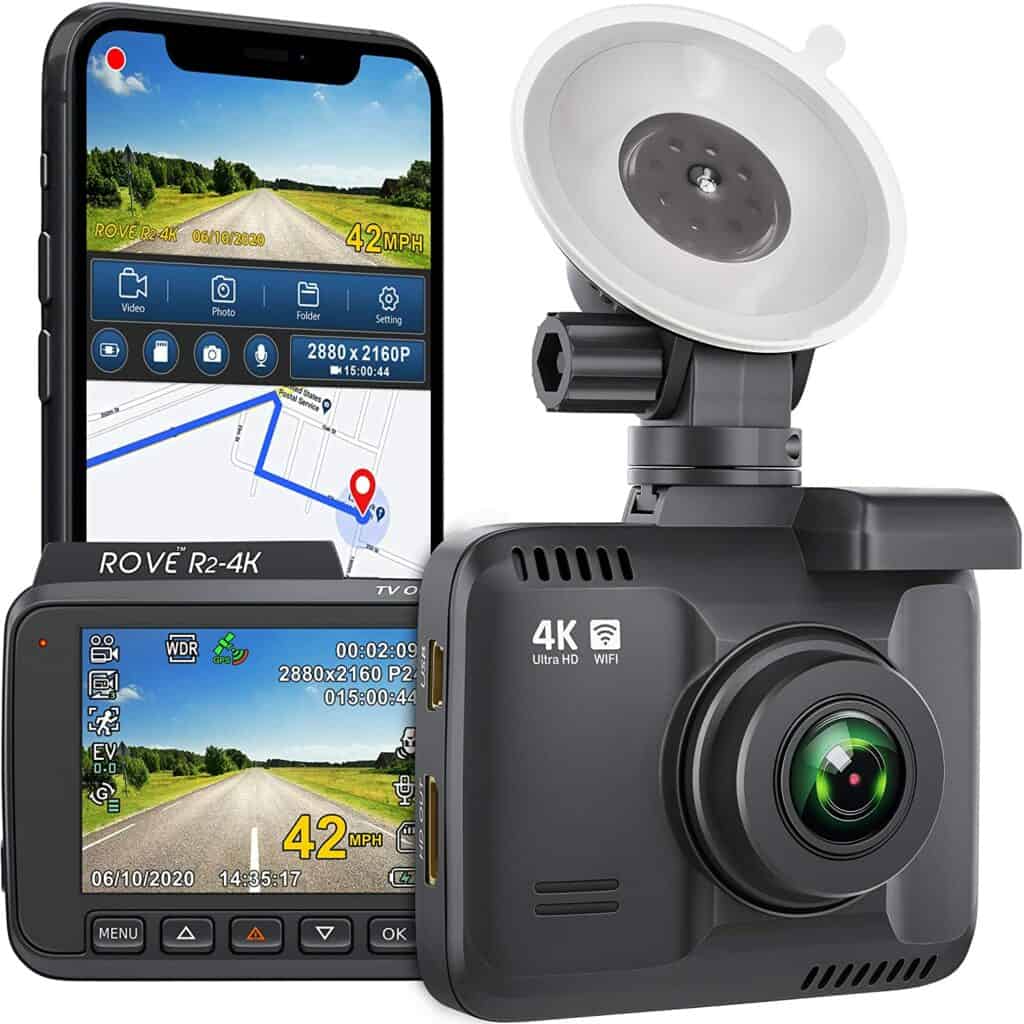 The R2-4K, manufactured by Rove, is by far one of the best dash cam options if you are on a tight budget. Coming in at only $120, it offers plenty of features for the price point. Like all the cameras on the list, the R2-4K is an ultra-HD camera. It has a perfectly sized 2.4" LCD screen and a 150-degree wide angle lens.
As if that were not enough, the Rove includes night vision and has a wireless app compatibility. The app has GPS functionality to ensure that you get to your destination on-time every time.
Pros
Best value
Night vision
App with GPS
Wide angle lens
Cons
Front camera only
No loop recording
3. Thinkware U1000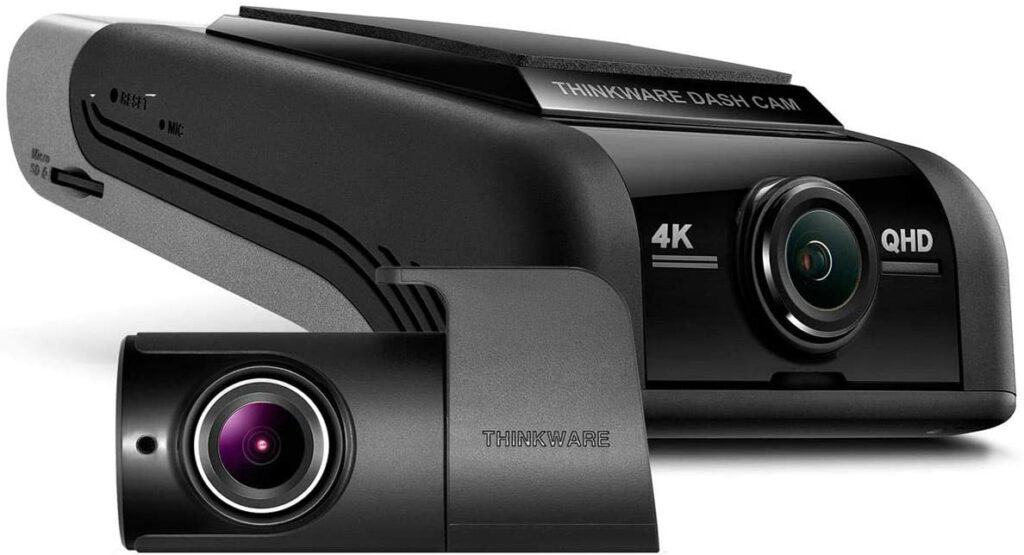 Our third entry is commonly considered to be the very best dash cam for truckers. The Thinkware U1000 is a dual dash cam. The 4K front cam has a 150-degree wide angle lens. The 2K rear camera provides a slightly narrower view and resolution quality, but it is a great addition to the ultra high quality front camera.
The U1000 has a user-friendly parking mode, GPS sensor, and is even cloud enabled. It offers tremendous video quality and is laden with features. It is a bit more expensive than some of our other options, coming in at $429.99.
Pros
Front and rear cameras
Excellent video quality
User-friendly design
GPS
Cloud enabled
Impact detection
Cons
4. BlackVue DR900S-1CH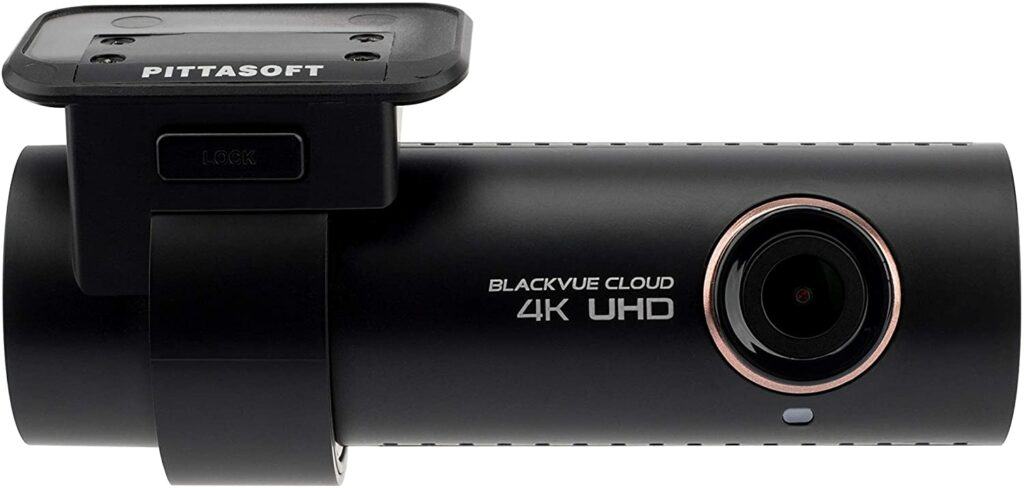 Next up is the DR900S-1CH from BlackVue. This sleek, ultra-durable camera is a great option for use in commercial vehicles. It includes an SD card reader and is compatible with both Android and Apple devices.
The DR900S has a GPS, G-sensor, and is WiFi compatible. It offers enhanced night vision and is built to withstand hotter climates. It can be yours for $329.99, which is excellent pricing when considering its features and quality.
Pros
Flexible storage options
Top-tier night vision
Can withstand extremely warm climates
Cons
No rear camera
Battery discharge preventer is sold separately
Will need to upgrade included SD card immediately
5. Rexing V1 3rd Generation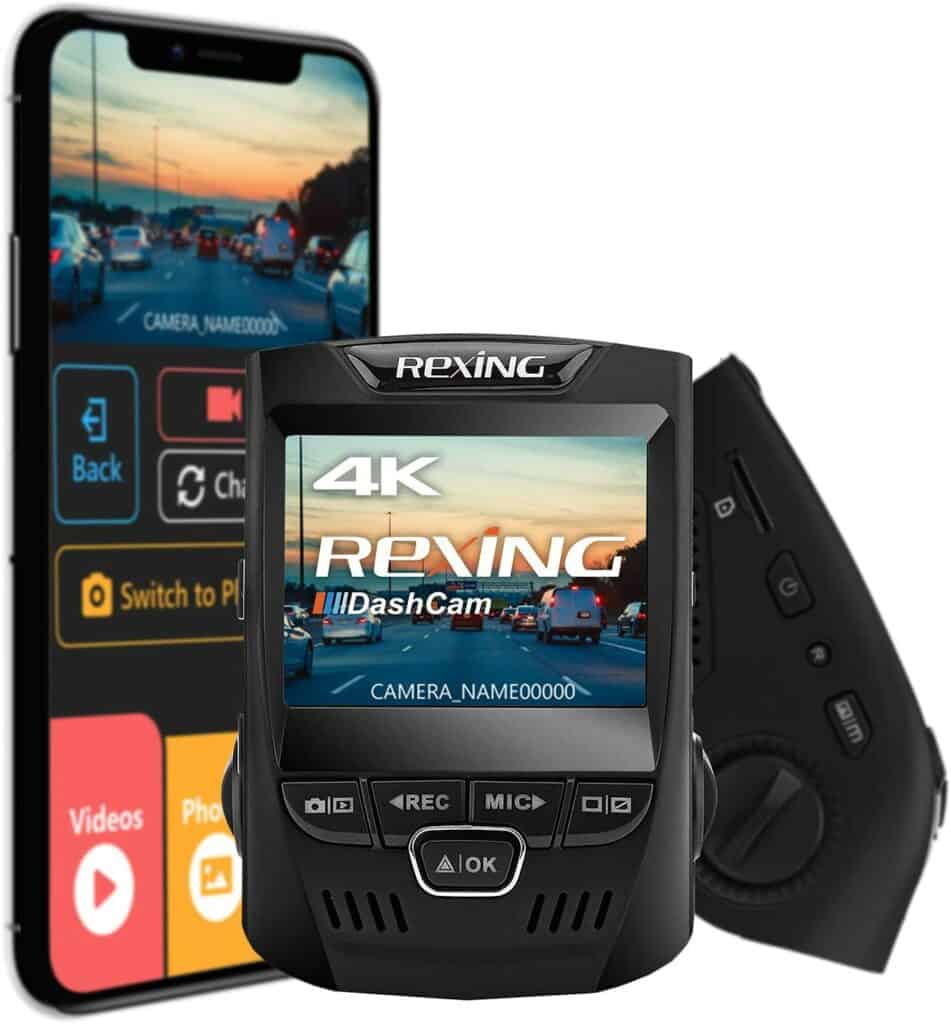 The V1 dash cam, made by Rexing, is another budget-friendly option. In fact, you can pick one up for around $100, making it easy to protect your drivers without breaking the bank.
Despite its incredibly low price point, the V1 is one of the most feature-packed 4K dash cams on our list. It includes a 170-degree wide angle camera, loop recording, a G-sensor, and an easy-to-use mobile app.
Pros
Affordable
Easy to install
Loop recording
Ultra-wide angle
Cons
No rear camera
Monitor quality could be better
6. Vantrue X4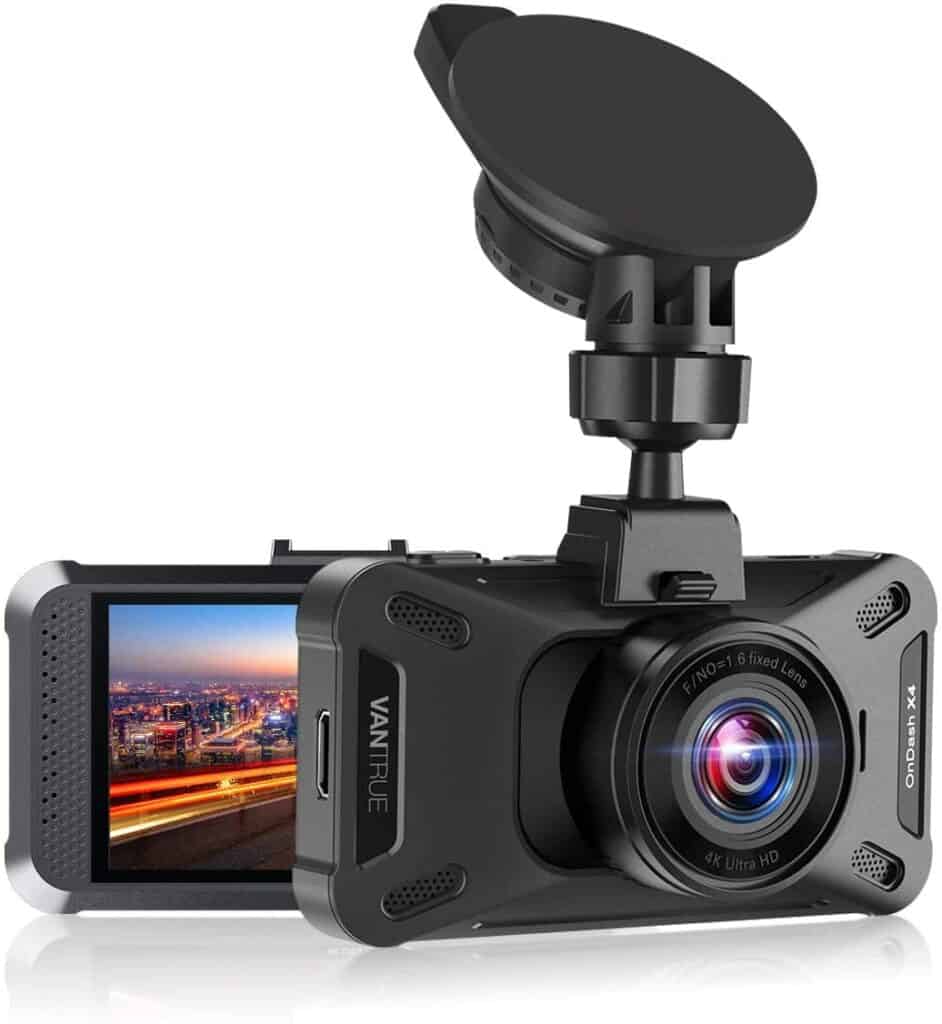 The X4 is one of Vantrue's most versatile dash cam options. This dash cam has a wide dynamic range and superb nighttime video quality. It starts at only $199.99 and gives you the option to add a GPS. This camera has impact detection, loop recording, and an easy-to-use parking mode.
Pros
Great pricing
Option for upgrades
Impact sensor
Cons
No rear camera
Large, bright screen can be distracting at night
7. Nextbase 622GW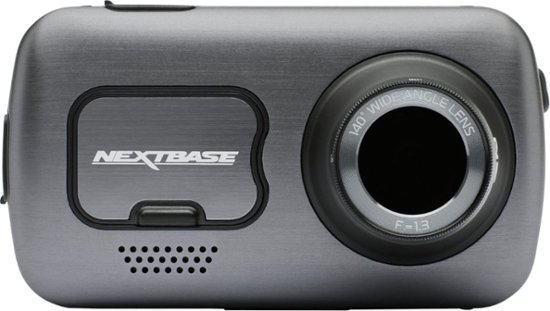 The 622GW is one of the premium camera options provided by Nextbase. They also offer several budget options, but the 622GW offers a comprehensive list of features that are tough to pass up.
This camera has a huge 3" monitor. It can be installed in minutes and offers WiFi and Bluetooth compatibility. There is even has a built-in Alexa feature, allowing you to play music and make calls all by talking to your dash cam. It is a bit pricey for a single camera, with the entry price teetering right around $330.
Pros
Pairs with Alexa
Excellent video quality
Fast installation
Easy to use
Cons
A bit expensive
No rear camera
No way to hide wires
8. Kenwood DRV-A601W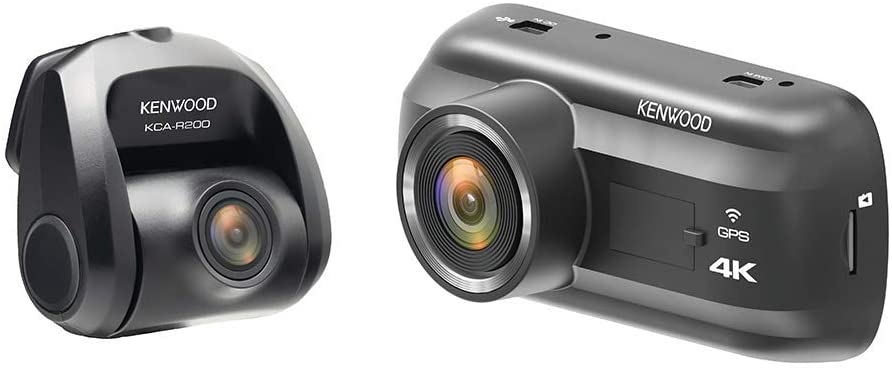 Our final entry is the DRV-A601W, made by Kenwood. You can expect to pay just over $200 for this camera, with the average sale price being $209 on online retailers.
The DRV-A601W includes a front and rear camera, huge 3" display, and GPS integration. It is easy to install and includes a 64GB SD card. It has excellent video quality day or night.
Pros
Good value for the price
Excellent video quality
GPS feature
User-friendly app
Cons
No impact feature
No loop recording
Considerations for Truckers
While all of the items on our list are excellent dash cam options, there are certain features that are especially beneficial for truckers. For example, having a G-sensor or impact detection equipment is a must. This sensor will detect if your vehicle has been involved in a crash and automatically begin saving recordings.
Generally, the camera will save 1 minute of footage prior to the crash and will continue to store data until it is manually deactivated.
In addition to an impact sensor, you need a loop recording feature. Loop recording means that the camera automatically films over any footage that has not been "locked." This prevents having to purchase huge amounts of storage space.
Night recording is also a vital feature. The best 4K dash cams all have exemplary nighttime video capabilities. This feature can be invaluable in the event that your driver was involved in a late-night crash.
Using the information in our list will help you to narrow your search. By carefully considering your needs and these important features, you can ensure that you are getting the best 4K dash cam for your needs.